Halbtagestouren in der Region Dachstein Salzkammergut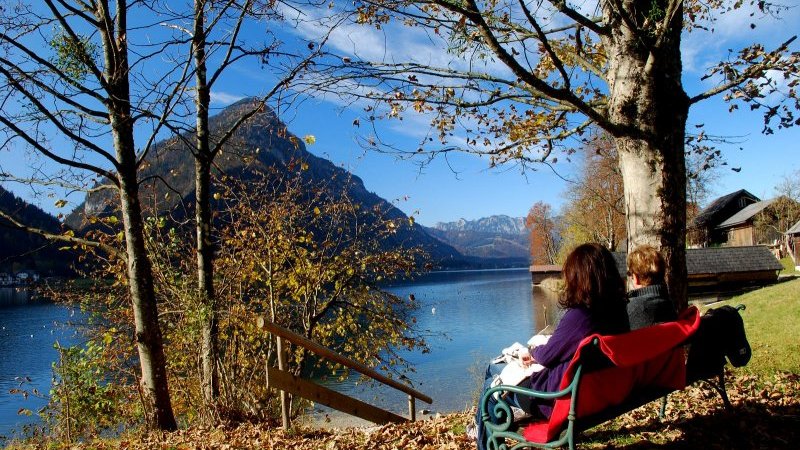 Get a good night's sleep first!
Holidays in the Dachstein Salzkammergut holiday region - by all means!
But get up with the roosters for it? Because what could be better than sleeping in! When life is pulsating outside the door in the morning, you simply turn over and snuggle into the comfortably warm bed.
So if you like to sleep in, here are numerous short hikes in the UNESCO World Heritage region of Hallstatt Dachstein Salzkammergut. Between the Dachstein Plateau and the Zwieselalm hiking area in Gosau with unlimited hiking tours for all ages, fantastic distant views, rustic huts or rushing mountain streams make every trail a unique experience. We have put together the most beautiful half-day tours in Bad Goisern on Lake Hallstatt, Gosau, Hallstatt and Obertraun for you. Here you will find information on how to get there, directions, where to stop for refreshments and hiking tips. Unique picturesque tour images make the selection easier. We hope you enjoy hiking in the Salzkammergut!
Short hike for almost any weather
Available accommodation for your hiking holiday in the Salzkammergut
Hotels and accommodation providers in Hallstatt, Bad Goisern, Gosau and Obertraun offer the ideal room or apartment for your holidays, no matter what your tastes. Aside from establishments rated according to the international "star" scale, you will also find around Lake Hallstatt in Austria businesses that have been awarded two to four "edelweiss". The more flowers, the greater comforts you can expect. Whether you eventually find your cozy nest in an elegant 5-star luxury hotel, at comfortable guesthouse, a family-friendly apartment, or on a traditional farm, the choice is always entirely up to you.