The Gosau Lake Experience
Boundless free-time enjoyment on and in the water
Just as the picturesque views draw visitors to the lakeside town of Hallstatt, the spectacular vista of the Dachstein Glacier rising behind the mountain lake helps to solidify Gosau as one of the top travel destinations in the Salzkammergut. Few visitors to this breath-taking jewel of nature know that the depth of the lake was increased by 12 meters as the result of damming in order to create a better water reservoir and more effective hydro-electric power production. Deeply touched by its beauty, the world traveller and natural scientist Alexander Freiherr von Humboldt declared this regal culmination of the Gosau Valley before the mighty slopes and peaks of the Dachstein to be the "eye of God."
Gosau | A picturesque mountain lake situated between the impressive Dachstein Glacier and the mighty peaks of the Gosaukamm. Experience hiking, climbing, or diving during your visit to Lake Gosau in the Salzkammergut.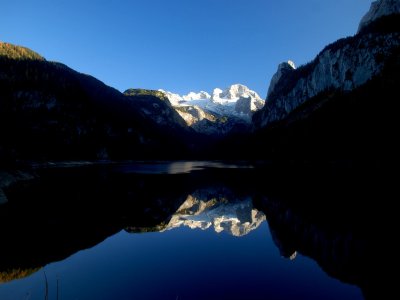 Gosau | This small, idyllic mountain lake at the foot of the Dachstein is a worthy reward (especially in autumn) after an extensive hike. Passing by the Gosaulacke (another small lake), the hike lasts approximately 1.5 hours (one way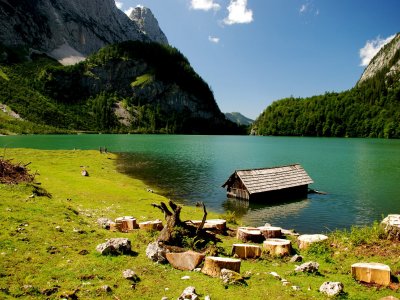 Gosau | Small mountain lake between the two larger Gosau lakes. Especially recommended during the play of colours of autumn leaves. Here you can really let your spirit roam free!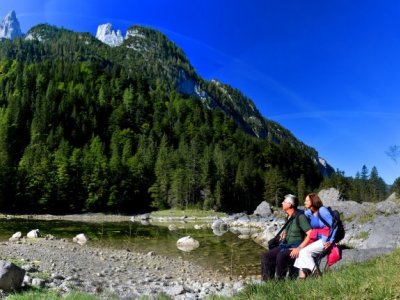 Aktueller Blick auf das Wetter
Family holiday in Gosau: The world-famous view from Lake Gosau to the majestic glaciers of the Dachstein in the UNESCO World Heritage region of Hallstatt Dachstein Salzkammergut. Meeting place for hikers, climbers and worshipers.

Holiday Adventures between Mountains and Lakes
Today the Gosau lakes aren't only a beloved photo motif but also offer a plethora of outdoor free-time activities: from favourite hiking and walking routes to stimulating fixed-rope climbing courses. For those who prefer the water, the "Vorderer" Lake Gosau provides several possibilities including electric boats and gorgeous bathing spots. With its rich aquatic environs, clear waters and extraordinary underwater views of the Dachstein, this natural jewel is also a must for any diver. Rustic alpine huts and a cherished restaurant round out the recreational opportunities on Lake Gosau, which we've compiled for our guests.
How about a winter holiday in the world heritage?
The oldest salt mine in the world, the breathtaking "Five Fingers" viewing platform, the view of snow covered Dachstein Glacier from the romantic Lake Gosau - these and more destinations thrilled millions of visitors, from around the world, who visited the UNESCO World Heritage region of Hallstatt Dachstein Salzkammergut in summer. However, also in winter, the four towns of the Dachstein Salzkammergut holiday region - Hallstatt, Bad Goisern, Gosau and Obertraun – have their own special charms: Rest & Relaxation in lovingly furnished apartments and perfectly equipped hotels, fantastic winter hiking trails, unrivalled snowshoe trails, romantic horse-drawn sleigh rides and a variety of thermal baths on the outskirts of the World Heritage region. Numerous swimming pools, whirlpools, saunas and steam rooms are available. Or treat yourself to one of the numerous applications such as classical or relaxing massages. Indulge yourself and enjoy the absolute tranquillity between mountains and lakes. Beautiful winter holiday in the world heritage!