Hallstatt: Your holiday place in Austria
Holiday in the World Heritage Region
The village Hallstatt is such an unbelievably spectacular place that even the Chinese have created a copy of the ancient salt mine village. But only in the original will you discover this truly unique culture with such a history all in a breath-taking mountain setting. The market municipality was already inhabited in the 1st millenium before Christ: during this period - the iron age - the civilization flourished. The following pages you will discover all there is to make your vacation in Hallstatt an unforgetable one. Find hotels in Hallstatt online and spend an exciting holiday among mountains and lakes with events and culture along with a lot of nature in the UNESCO World Heritage region of Hallstatt Dachstein Salzkammergut. We look forward to your visit!
Traffic news
19.9. - 13.10.2022
Salzkammergut Railway closed in autumn
For all those who would like to travel by train to the UNESCO World Heritage Region of Hallstatt Dachstein this Autumn. Please note: From 19th September 2022 to 13th October 2022, the entire railway line between the stations "Bad Goisern Jodschwefelbad - Stainach Irdning" will be closed due to construction and renovation work
All Change!
Bus instead of Train
A rail replacement service has been set up for travellers during this period. Buses will then take passengers to, among other places, Bad Goisern, Hallstatt, Gosau and Obertraun.
OUR SERVICE FOR YOU!
Stops at a glance

Getting on/off options for rail replacement services in the World Heritage area of Bad Goisern am Lake Hallstatt / Gosau:
Bad Goisern Jodschwefelbad railway station (B145) Bad Goisern market square Nearby: Bad Goisern town centre / local history museum / Hand.Werk.Haus
Steeg-Gosau railway station (forecourt)
Transfer options in the direction of Gosau / Gosautal / Gosausee
Obersee (Municipality of Bad Goisern)
Between the stops "Steeg-Gosau" and "Obersee" there will be a call taxi during the construction works (19.09. - 13.10.2022). You can reach the taxi operator, Taxi Rastl, at the following telephone number: +43 (0) 6131 542. Registration at least 60 minutes before departure.
Meeting points Steeg-Gosau railway station (forecourt) and at the stairway to the Obersee stop.
Hallstatt & Obertraun:
Hallstatt Lahn (bus terminal)
Nearby: Town Centre / Salzwelten
Obertraun-Dachsteinhöhlen Train Station (forecourt) Obertraun Gasthaus Koppenrast Nearby: Koppental & Koppenbrüller Caves
Special service for travellers
Timetable for rail replacement services
09.09.2022 - 13.10.2022
All information in one compact PDF file
Download & print now
FUTHER INFORMATION TO THIS TOPIC
Please note
"Ostuferwanderweg" (East Shore Hiking Trail) Latest
Information for hikers and bikers
No return options by train in autumn
Dear hikers and bikers, please note that the railway line along Lake Hallstatt will be closed from 19th September 2022 to 13th October 2022 due to construction and renovation work.
Bus Instead of Train
During this time, there are no return options by train.
The station "Obersee" is also affected. The railway has arranged a rail replacement service for this period.
Return buses are available from the stops "Traun-Brücke" in Steeg / Bad Goisern and "Resort" in Obertraun.
Path is open!
Another note: The hiking trail and also the cycle path are passable during the period of construction work. The Seeraunzn restaurant is open.
Questions about the ferry service?
It is not yet clear whether the ferry will operate between Hallstatt town and Hallstatt train station during the period in question. According to information provided by the ferry operators "Hallstättersee Schifffahrt" on 2nd August 2022, there will probably be a limited ferry service.
Questions? If you have any questions on this subject, please send them directly to:
Special service for travellers
Timetable for rail replacement services
09.09.2022 - 13.10.2022
All information in one compact PDF file
Download & print now
Rundfahrtschiff fahren!
Lake Hallstatt Shipping Latest
No ferry traffic from mid-September to mid-October 2022
Tours ships will still run!
Dear Guests & Hikers

Please note that between 19th September 2022 and 13th October 2022 there will be work on the rail network of the Austrian Federal Railway (ÖBB). During this period there is a rail replacement service between the "Goisern Jodschwefelbad" and "Stainach Irdning" train stations.
No train - no ferry!
During this period the ferry service between the landing stages "Hallstatt Bahnhof" and "Hallstatt Markt" is suspended. There will be no ferry service!

Rundfahrtsschiff "Hallstatt" fährt!
Allerdings besteht die Möglichkeit, mit dem Rundfahrtschiff zum Bahnhof bzw. nach Hallstatt zu fahren.
Round trip ship "Hallstatt" is running!
However, it is possible to take the round trip ship to the train station or to Hallstatt.

Departure Times at a Glance
From Hallstatt Market
hourly
11:00 - 15:00

From Hallstatt Lahn
hourly
11:10 - 15:10

From Hallstatt station to Hallstatt
hourly
11:40 – 15:40
Hiking trail is open!
The Ostuferweg (East Shore path) is open for hikers and cyclists during the entire period. Please note that during this period there is only a return option by bus of the rail replacement service or the regular post bus.

Your editors wish you a pleasant holiday

Einen schönen Urlaub wünscht Ihnen Ihre Redaktion
Best of Hallstatt - Sights at a Glance
Indian Summer on Lake Hallstatt
Event calender & Highlights
What's going on in the Salzkammergut? All events at a click. Our event calendar at a click. From conventions to concerts. From nature to culture. Here you will find events in Obertraun, Hallstatt, Bad Goisern, Gosau or Bad Ischl. From tradition to hiking. The choice is yours!
Hiking in the Salzkammergut
Active Holiday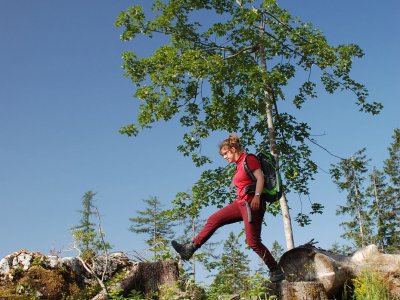 Hiking, climbing, water sports, mountain biking - the mountains of the Salzkammergut meet all the requirements for a varied active holiday from spring through summer to autumn. Whether calm or fast-paced - there is something for everyone. Guaranteed!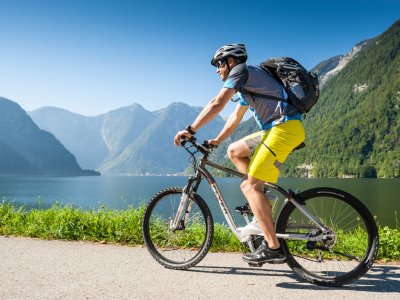 Whether you ride a mountain bike to achieve sporting ambitions or for pure enjoyment, the Hallstatt is a bikers' paradise.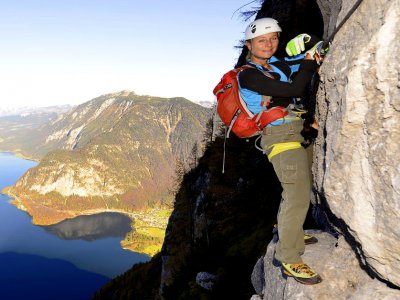 Rock climbing has become very popular in region Dachstein-Salzkammergut over the last number of years. And no wonder – there thousands of cliffs, bluffs and crags for climbers to test their skills.
Besondere Erlebnisse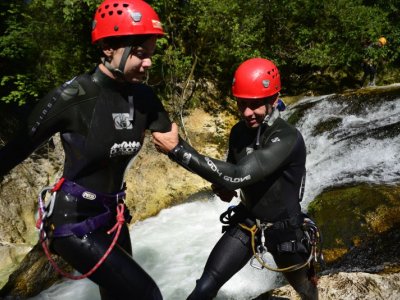 The nature experience of summer! Daily from 1st of May to 26th of October 2022! By appointment only! Tour duration: about 3 hours.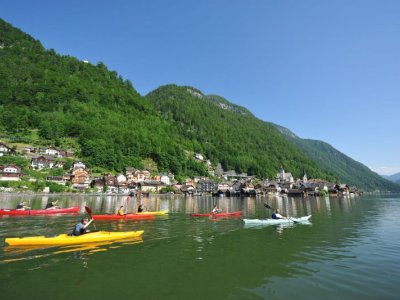 The nature experience of summer! Daily from 1st of May to 26th of October 2022! By appointment only! Tour duration: about 3 hours.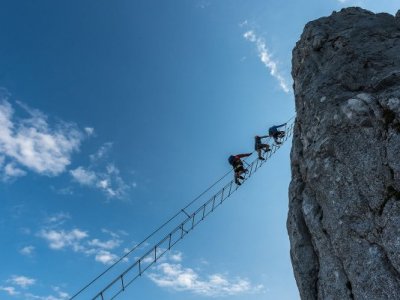 Via ferrata training for beginners and advanced - guided via ferrata tours. Bookable daily. From 1st of May to 26th of October 2022. Registration is essential!