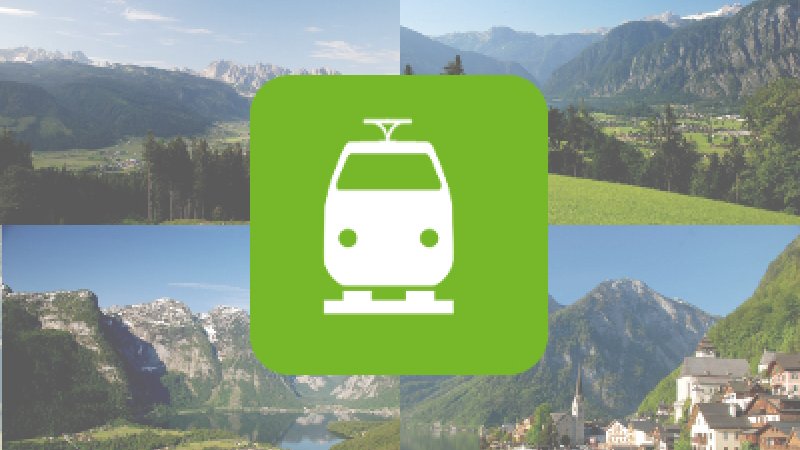 Traffic news
19.9. - 13.10.2022
Salzkammergut Railway closed in autumn
For all those who would like to travel by train to the UNESCO World Heritage Region of Hallstatt Dachstein this Autumn. Please note: From 19th September 2022 to 13th October 2022, the entire railway line between the stations "Bad Goisern Jodschwefelbad - Stainach Irdning" will be closed due to construction and renovation work
All Change!
Bus instead of Train
A rail replacement service has been set up for travellers during this period. Buses will then take passengers to, among other places, Bad Goisern, Hallstatt, Gosau and Obertraun.
OUR SERVICE FOR YOU!
Stops at a glance

Getting on/off options for rail replacement services in the World Heritage area of Bad Goisern am Lake Hallstatt / Gosau:
Bad Goisern Jodschwefelbad railway station (B145) Bad Goisern market square Nearby: Bad Goisern town centre / local history museum / Hand.Werk.Haus
Steeg-Gosau railway station (forecourt)
Transfer options in the direction of Gosau / Gosautal / Gosausee
Obersee (Municipality of Bad Goisern)
Between the stops "Steeg-Gosau" and "Obersee" there will be a call taxi during the construction works (19.09. - 13.10.2022). You can reach the taxi operator, Taxi Rastl, at the following telephone number: +43 (0) 6131 542. Registration at least 60 minutes before departure.
Meeting points Steeg-Gosau railway station (forecourt) and at the stairway to the Obersee stop.
Hallstatt & Obertraun:
Hallstatt Lahn (bus terminal)
Nearby: Town Centre / Salzwelten
Obertraun-Dachsteinhöhlen Train Station (forecourt) Obertraun Gasthaus Koppenrast Nearby: Koppental & Koppenbrüller Caves
Special service for travellers
Timetable for rail replacement services
09.09.2022 - 13.10.2022
All information in one compact PDF file
Download & print now
Arriving at Lake Hallstatt & Gosau Valley
Before you finally start your long-awaited holiday, you might want to inform yourself about the shortest and best way to reach the destination, which could be useful for the holidays. For example, the Dachstein Salzkammergut holiday region can be reached in a number of ways: with your own car, by bus or train! We have put together the most important information for you to prepare you for your trip to the Salzkammergut and your stay in Bad Goisern, Gosau, Hallstatt or Obertraun.
Videos
Where would you like to go?
As we all know, pictures say more than a thousand words. So does a film.
That's why we have put together four videos on the subject of "Getting here" for you below. The four short clips make it easier for you to get to Hallstatt, Bad Goisern on Lake Hallstatt, Gosau (Gosau Valley) and Obertraun on Lake Hallstatt. All four towns form the UNESCO World Heritage Region of Hallstatt Dachstein Salzkammergut.
Watch now!
Video
How to get to
Bad Goisern at Lake Hallstatt
Watch now!
Video
How to get to
Gosau and the Gosau Valley

Watch now!
Video
How to get to
Obertraun on Lake Hallstatt