Hiking Holidays around Lake Hallstatt
Pleasant paths, rugged rocks
Tie your boots, pack your rucksack and just start hiking. Through roads and alleys, past lovingly painted houses and friendly people. Out of town,into nature. Stimulating, exciting or calming – all around Lake Hallstatt and the Gosau Valley you can experience and walk the rough beauty of the breathtaking Alpine mountains.
Let your mind wander into the vast Alpine landscape. Across blooming Alpine pastures, rugged mountain ranges, deep blue lakes and crystal clear streams. Wild and real, gentle and calm. A world of contradictions – incomparable enjoyment. Past the Mout Sarstein mountain range all the way to Moun Krippenstein in Obertraun on Lake Hallstatt. Moments you will never forget. The daily grind moves far away and you can clear your head, as clear as the high Alpine mountain air. You might get to know yourself a bit better. You almost wish you will never arrive at your destination. That´s hiking in the UNESCO World Heritage region of Hallstatt Dachstein Salzkammergut. Enjoy it!
Mountain Moments 2018
The Obertraun "Hiking in Autumn Program" includes hiking tours ranging from 500 m to 2100 m above sea level from August to October 2017. Autumn time is hiking time! Come and join us in the "Mount Dachstein Hiking World".
Hiking trails at a glance
In this section you will find the best walking routes, all tours at your fingertips, long distance trails, family tours, short trips for late risers and more offers at a glance.
Mountain Huts and Alpine
Fancy a glass of wonderfully fresh milk, accompanied by freshly baked farmhouse bread with bacon or fresh alpine cheese. Here you will find the most beautiful Alpine pastures, in the World Heritage region, for your family hike or Alpine pasture excursion.
"Glücksplätze" - Places of happiness
UNESCO World Heritage of Hallstatt Dachstein Salzkammergut | Places of happiness: Find the best areas of tranquillity, energetic places and relaxation points between lakes and mountains! Holiday for body and soul. Stock up now!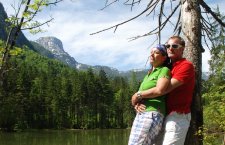 Unforgettable nights in the mountains
Why not combine an unforgettable hiking tour, around Lake Hallstatt, with a cosy night in a romantic mountain hut? Yes, why not indeed! Forego all the frills and get back to nature!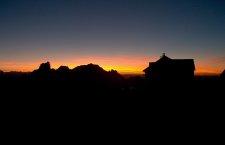 The youth-spring way (Jungbrunnenweg) in Russbach
Russbach | "The youth-spring way": Experience world for children and families The special path in the naturalistic environment of the Jungbrunnenweg in the small town of ußbach at the pass Gschütt.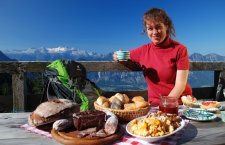 Hiking with Betty
The guided tours will lead you to the most beautiful places around Lake Gosau and Lake Hallstatt. Betty will give you unforgettable moments!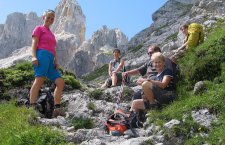 Guided hikes
Feel as a team. Enjoy conversations, laugh and move, get out of breath, arrive together and look down into the valley and enjoy the wonderful views.
3 Peaks and 1 Ticket
Salzkammergut | Mountain-Ticket (Gipfelticket): From now on you can get to the most popular mountain peaks in the Salzkammergut with just one, great value ticket. This discounted ticket lasts all summer long, for the loveliest peaks and views in the Salzkammergut.
Safety Tips for Hiking
How do I prepare myself for a hiking tour? What do I take along in my backpack? What do I do and whom do I call during an emergency? Still have lots of questions? You'll find the right answers here . . .
Rustic! Incomparable! Simply Irresistible!
Simply get away from the hustle and bustle, surrounded by nature, cowbells ringing instead of your smartphone…. Holidays up on an Alpine pasture, or in one of the many mountain huts, are becoming increasingly popular. But it is not always easy to find the "right" Alpine pasture or mountain hut. Therefore, we have compiled the most beautiful "Mountain service stations" for you, with stunning panoramic pictures and the most important information for all "newcomers" and World Heritage hikers. As it is usual in the Simonyhütte, the Adamekhütte or Hütteneckalm in Bad Goisern to greet people informally with a "Du" rather that the formal "Sie", as we say here in the UNESCO World Heritage region of Hallstatt Dachstein Salzkammergut…. "Grias di"!