Bathing at Lake Hallstatt
Here you will get really soaked!
The UNESCO World Heritage site of Hallstatt Dachstein Salzkammergut offers more than just mountains. All swimming enthusiasts will get more than their money's worth at the many beach resorts around Lake Hallstatt and Gosau - the offer is large and varied. And whoever wants to see the lakes from a different perspective has to simply climb a mountain and look down into the valley onto the wonderful Salzkammergut landscape. Here we present a selection of the best stretches of water for bathing, swimming and sunbathing in Bad Goisern on Lake Hallstatt, Gosau, Hallstatt and Obertraun. 
Our leisure facilities for water lovers at a glance
Hallstatt recreational area
Hallstatt / Obertraun | recreational area: Large bathing beach on Lake Hallstatt with a large sunbathing area, barbeque areas, snack bar and ample parking. Special feature: Unique panoramic views while swimming!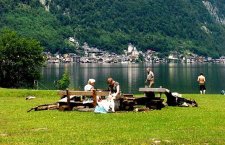 Spa garden Bad Goisern
Bad Goisern on Lake Hallstatt| Parkbad: Located next to the Kurpark (spa gardens), in the centre, are the sunny beaches and lawns of the Parkbad with large sunbathing areas, slides, large swimming pools and ample parking.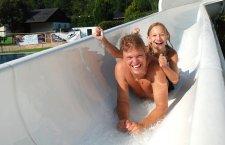 Untersee lido in Bad Goisern
Bad Goisern on Lake Hallstatt/ Untersee lido: The beautifully located lakeside resort, with stunning panoramic views over the fjord-like lake and the Krippenstein, the mountain for excursions and hiking, counts as one of the most beautiful bathing areas in the Salzkammergut.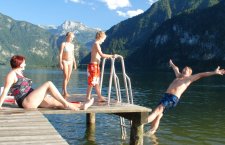 Recreational paradise on Lake Hallstatt
Obertraun on Lake Hallstatt | Strandbad: The family-friendly beach in Obertraun on Lake Hallstatt is one of the most beautiful and best maintained swimming facilities on Lake Hallstatt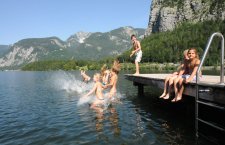 Dog bathing area on Lake Hallstatt
Obertraun | Dog bathing area: For all four-legged friends, who want to cool down a bit on hot summer days, there is a dog bathing area at the so-called Landbettler between Hallstatt and Obertraun.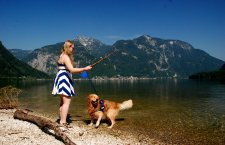 Lake Gosau: Bathing with glacier views!
Gosau | Lake Gosau (Vorderer Gosausee): This small mountain lake is a nature reserve and characterised by very cold, clear water of drinking water quality. Ample parking is available at the Zwieselalm cable car station. Most fascinating: The view to the Dachstein Glacier!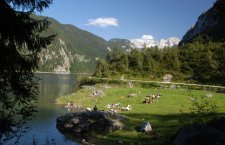 Gosau indoor pool
Swim a few rounds in the warm water, or just paddle about - a pleasurable way to relax and enliven. Enjoy the spectacular view of the snowy Gosau ridge.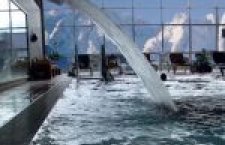 EurothermenResort Bad Ischl!
Bad Ischl | EurothermenResort Bad Ischl!: All under the same roof. A wellness centre offering Alambra, Yasumi Sauna with both indoor and outdoor saline pools.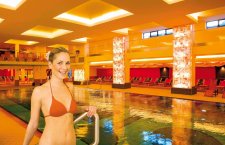 Spa at Bad Mitterndorf
Bad Mitterndorf | GrimmingTherme: Spending time in the GrimmingTherme means just enjoying, nothing to care about and savoring all offers. It is an exceptional place of relaxation surrounded by a fantastic alpine landscape.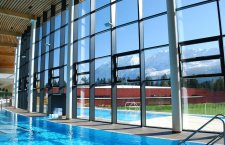 Daffodils Bad Aussee - Solebad & Vitalresort
Bad Aussee | Narzissen Bad Aussee: The newly built, health, spa and wellness resort, is situated in the middle of Austria's breathtaking mountain and lake district, the Salzkammergut area.
Barhing around Lake Hallstatt – Take the...
Salzkammergut experiments ticket
Save up to 30% off regular rates with public transportation, with shipping and boating opportunities, mountain railways and uphill facilities, salt mines, ice caves & caverns, museums, swimming opportunities as well as with various recreational facilities and activities