Recreational paradise on Lake Hallstatt
Summer, blue skies, sunshine: Indispensable on a summer vacation, in the Salzkammergut, is the extensive bathing fun. The family-friendly beach in Obertraun on Lake Hallstatt is one of the most beautiful and best maintained swimming facilities on Lake Hallstatt and scores high with guests and hosts in many ways: with a beach volleyball court, children's playground, barbeque areas, water slide, and even free parking.
The large sunbathing area, the spacious changing rooms and the beautifully situated snack bar, with a variety of delicacies, are ideal for long swimming days in the World Heritage region of Hallstatt / Dachstein Salzkammergut. This is what makes bathing in Obertraun on Lake Hallstatt fun: Summer, sun, Salzkammergut!
The Immervol bike rental is located directly at the See-Cafe & beach in Obertraun. The perfect starting point for a bike ride along Lake Hallstatt on the "Ostuferradweg" for example.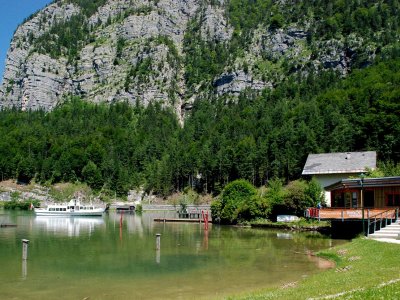 Obertraun | Immervoll boat hire: Located directly on the beach with lakeside café. For ePirates, thigh pumpers thighs or biceps posers – for each captain, the right boat!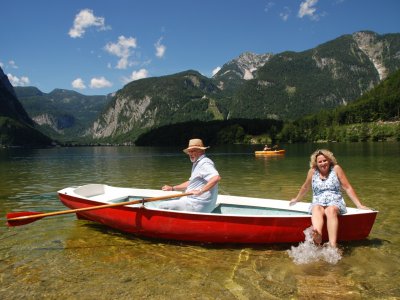 Take an extraordinary ride on Lake Hallstatt with Navia, and turn back time. On board a Zille, sister to those that transported the "white gold" from Hallstatt's Salzberg, or Salt Mountain, into the wider world 500 years ago.