SUP – Stand-Up-Paddling on Lake Hallstatt
Enjoyable discovery tour
Lake Hallstatt has developed into a true Eldorado for stand-up paddlers in recent years. This is due to that that between Bad Goisern, Hallstatt and Obertraun there is not only a lot to see, but also some small bathing spots to cool off on hot summer days. A trip to "Seeraunz'n", an popular restaurant destination on the "Ostuferwanderweg" hiking trail between Bad Goisern and Hallstatt train station, is particularly popular with guests and hosts.
Especially in the evening hours, the individualists are drawn to the lake.
They can often be seen when the Krippenstein is bathed in a dark orange light at sunset on a hot summers evenings. A unique experience. Simply wonderful! Freedom and independence in an idyllic nature.
Easy and uncomplicated
For everyone who wants to give it a try: At the boat rental companies located on Lake Hallstatt, you can rent a suitable "board" at any time during normal opening hours. This saves space in the boot of your car and even advanced users swear by the rental option. All further information can be found below under "Information at a Glance".
We hope you enjoy stand-up paddling on Lake Hallstatt.
Overview of further Stand-Up-Paddling Offerings
In recent years, Stand-up paddling has also established itself on Lake Gosau, a millennia-old sport from the South Pacific. Sightseeing on the water. King Dachstein always in view.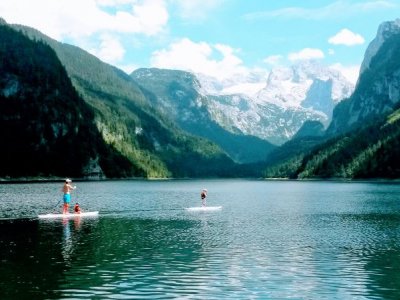 The lakes in the Salzkammergut offer the best conditions for this new trend sport. Give it a go. You can find all the required information in this article. Get on board and off you go!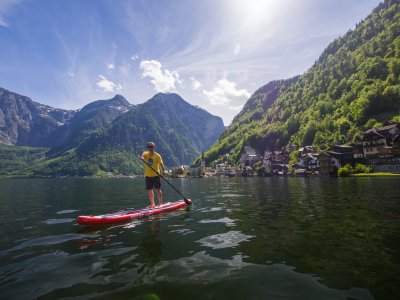 Please note!
How do storm warning beacons work?
Whether you're out in a rental boat from one of the numerous rental agencies on Lake Hallstatt or underway in your own vessel, there is always a potential for storms or high waves on the lake. Storm warning beacons call attention to the weather conditions in the area. The storm warning beacons (an orange, blinking spotlight) are positioned in the north and south so that at least one signal is visual from any point on the lake.
In this manner, water enthusiasts can be immediately warned in the event of strong winds or storms. You should be aware of and heed the respective signals. A quickly rotating light signifies an approaching storm. You should leave the water immediately!
A slowly rotating light means that a storm can arise at some point in the near future. You may remain on the water but stay close to shore. Should you find yourself in a dangerous situation, call the emergency number 130. Your boat rental agency is available to answer additional questions. We hope you have a memorable and safe outing on Lake Hallstatt. 
Questions?
If you have any questions on these topics, please contact the staff at Tourism Information.
All 4 one
Tourist information
The 4 tourism offices of the
UNESCO World Heritage region of H
allstatt Dachstein Salzkammergut
on a click
Tourism information Bad Goisern
Phone: +43 (0) 5 95095 100
E-Mail
Tourism information Gosau
Phone +43 (0) 5 95095 20
E-Mail 
Tourism information Hallstatt
Phone +43 (0) 5 95095 30
E-Mail
Tourism information Obertrau
n Phone: +43 (0) 5 95095 40
E-Mail

Please note
Due to the current situation, changes can occur at any time. We look forward to your visit to the UNESCO World Heritage Region of Hallstatt Dachstein Salzkammergut and wish you a relaxing and restful holiday. See you in the heart of Austria.
Your editorial team.
Freie Unterkünfte für Ihren Stand-Up-Paddling Urlaub am Hallstättersee
Hotels and accommodation providers in Hallstatt, Bad Goisern, Gosau and Obertraun offer the ideal room or apartment for your holidays, no matter what your tastes. Aside from establishments rated according to the international "star" scale, you will also find around Lake Hallstatt in Austria businesses that have been awarded two to four "edelweiss". The more flowers, the greater comforts you can expect. Whether you eventually find your cozy nest in an elegant 5-star luxury hotel, at comfortable guesthouse, a family-friendly apartment, or on a traditional farm, the choice is always entirely up to you.