Excursion planner through the World Heritage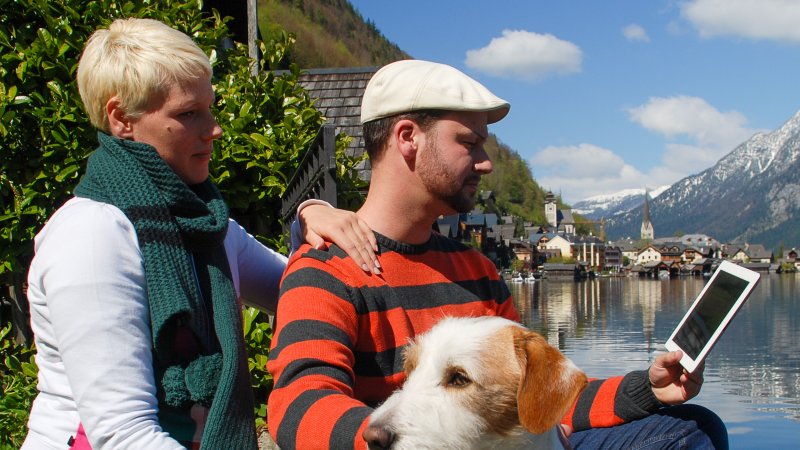 An unforgettable piece of Austria
There is so much to discover in the UNESCO World Heritage region of Hallstatt Dachstein Salzkammergut. Some of the most beautiful sights: The oldest salt mine in the world, the Salzwelten in Hallstatt, the cave worlds in the Dachstein Hiking World on the Krippenstein in Obertraun and the majestic glaciers of the Dachstein at lake Gosau. With its archaeological sites and scenic impressions the world famous holiday destination Hallstatt scores especially high with visitors interested in culture and nature.
To help you to find the highlights, we have summarised the most beautiful sights, attractions and spectacles of nature for you here. We wish you a pleasant stay in the holiday region of Dachstein Salzkammergut and would be happy to welcome you on a discovery tour through the World Heritage site.
Top sights around Lake Hallstatt
Always well-informed
When is the next cable car to the Dachstein Plateau in Obertraun? When does the next sightseeing ship depart from Hallstatt? With the four tourism platforms of the UNESCO World Heritage site of Hallstatt Dachstein Salzkammergut // www.hallstatt.net // www.bad-goisern.net // www.obertraun.net // www.gosautal.net // you will always stay up-to-date on current hours of operation, itineraries and more. If you'd like to use this information for during your stay in the holiday region of Dachstein Salzkammergut, then we would suggest that you save the appropriate website of your holiday destination in your favourites list on your smartphone or tablet. Then, you will always be informed during your holiday in the Salzkammergut. We hope to see you in Hallstatt, Gosau, Bad Goisern and Obertraun!
Search and Book
Hotels and accommodation providers in Hallstatt, Bad Goisern, Gosau and Obertraun offer the ideal room or apartment for your holidays, no matter what your tastes. Aside from establishments rated according to the international "star" scale, you will also find around Lake Hallstatt in Austria businesses that have been awarded two to four "edelweiss". The more flowers, the greater comforts you can expect. Whether you eventually find your cozy nest in an elegant 5-star luxury hotel, at comfortable guesthouse, a family-friendly apartment, or on a traditional farm, the choice is always entirely up to you.