Places of happiness: Gosau Lacke
Relax and enjoy
There are many "Glücksplätze" (places of happiness) in the Salzkammergut region, but the little body of water situated between the front and rear Gosau lakes, called "Gosaulacke" is certainly one of the most beautiful energetic places in Gosau – especially in autumn. The small pool of water is shallow, and only experiences a very small permanent inflow from the Launigg karst spring and the small Brandsee. But when the snow melts or after heavy rains the Gosaulacke can be filled by the overflowing Hinterer Gosausee and then runs itself into the nearby Vorderen Lake Gosau. In dry periods however, the small lake whose water quality varies between excellent clear and turbid, disappears. Here you can just sit back and unwind.
Our tip: A hike to "Glücksplatz" Gosaulacke can be combined perfectly with a tour to the Hinterer Lake Gosau.

Tips: Hiking in autumn
Autumn is here! Hooray! The most beautiful hiking season of the year! However, there are a few things you should keep in mind when hiking, especially at this time of year.
Plan tours properly.
Start early. Especially for high alpine hikes.
Attention: It gets dark early!
If you are staying overnight in a hut, register in good time by telephone.
Do not miss the last cable car ride down the mountain when on mountain tours.
Information on the current operating times of the cable cars in connection with a hike can be found below under "Information at a Glance".
Check snow conditions. Because at this time of the year the first snow can already fall in the high mountains.
We have summarised further important safety tips below.
We wish you an unforgettable hiking autumn in the Salzkammergut.
Your editorial team
Safety Tips for Hikers
Admittedly, the landscape of the UNESCO World Heritage region of Hallstatt Dachstein Salzkammergut is the absolute pinnacle for hiking fans, mountain enthusiasts and nature lovers—unforgettable tours to incredibly beautiful mountain lodges and meadows, panorama views as far as the eye can see and cherished moments that will last a lifetime! However, you should remember that while hiking you might find yourself in high-alpine terrain. We've put together some resources to assist you: how to best prepare for your tour, recommended items for your backpack and steps to take in an emergency situation. Remember to always play it safe and enjoy your hiking adventure in the Salzkammergut!

Ways to this place & other offers
Gosau | Breath-taking glacial views, rustic alpine huts, challenging fixed-rope climbing routes, sensational water settings—a travel destination with endless possibilities!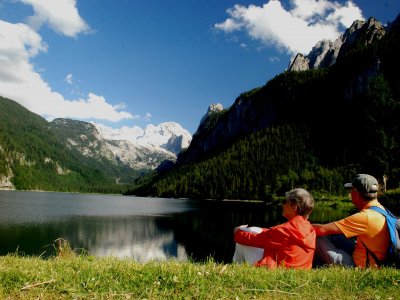 UNESCO World Heritage of Hallstatt Dachstein Salzkammergut | Places of happiness: Find the best areas of tranquillity, energetic places and relaxation points between lakes and mountains! Holiday for body and soul. Stock up now!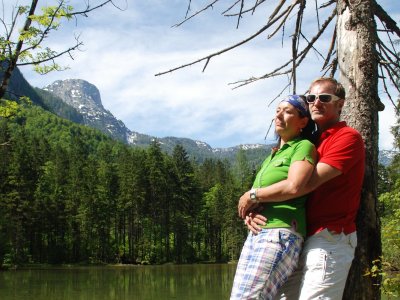 Search and Book
Hotels and accommodation providers in Hallstatt, Bad Goisern, Gosau and Obertraun offer the ideal room or apartment for your holidays, no matter what your tastes. Aside from establishments rated according to the international "star" scale, you will also find around Lake Hallstatt in Austria businesses that have been awarded two to four "edelweiss". The more flowers, the greater comforts you can expect. Whether you eventually find your cozy nest in an elegant 5-star luxury hotel, at comfortable guesthouse, a family-friendly apartment, or on a traditional farm, the choice is always entirely up to you.