Guesthouse "Höllwirt" in Obertraun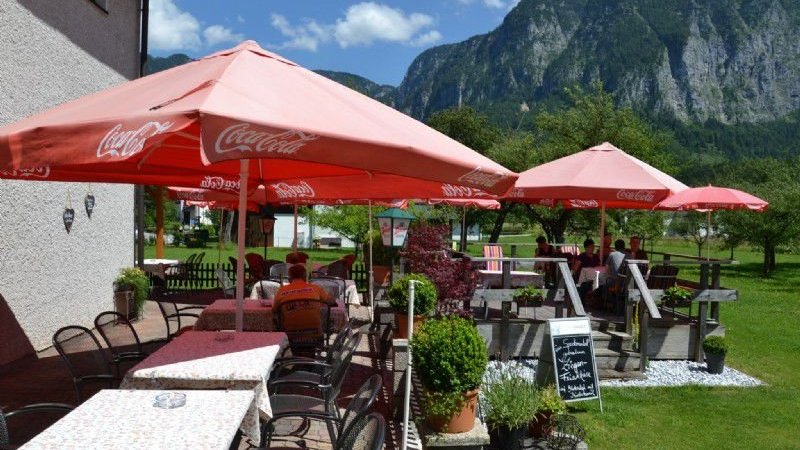 The restaurant for fish specialties in Obertraun
The UNESCO World Heritage region of Hallstatt Dachstein Salzkammergut is known for good food and traditional dishes. We are particularly proud of the inn culture, which is very closely linked to the cuisine around Lake Hallstatt. Whether you are looking for a small snack in between meals, a hearty delicacy or a special evening meal on the cosy terrace during your holiday in the Dachstein Salzkammergut holiday region - at "Höllwirt" in Obertraun on Lake Hallstatt, you can find a wide range of culinary delights: The cosy restaurant, in the heart of Obertraun, is already in its third generation as a guesthouse and is family owned since 1734.
The boss, Leopold potters around in the kitchen while his wife Ingrid tends to the guests' welfare. A visit to the Höllwirt can be perfectly combined whilst hiking in Obertraun on the "Obertrauner Höhenweg" or a trip to the "Wasserfallwand" (waterfall wall).
Discover Obertraun – A world of limitless experiences
There's much to discover and experience in Obertraun on the southern shore of the idyllic Lake Hallstatt: hiking routes for all types, romantic spots, sport challenges, and winter wonderlands. Whether it's through water fun on the lake, relaxing at the Koppenlacke, or a bike tour along Lake Hallstatt, boredom is never the case in Obertraun. In terms of experience-rich outings, Obertraun offers the nearby historical town of Hallstatt with its Salzwelten salt mine, numerous hiking paths and visits to the fascinating ice caves within the Dachstein Mountain or the impressive "5fingers" viewing platform on the Krippenstein. In winter, snow-hungry visitors can also find their hearts' desires: freeriding, snowboarding, ski touring, and snowshoeing in the Freesports Arena Dachstein Krippenstein. From beginners to professionals, the Krippenstein has something for everyone. In both summer and winter, cosy mountain huts, such as the Lodge on the Krippenstein or the Schilcherhaus on the Gjaidalm, provide a relaxing finale to exciting hiking and thrilling skiing days. Boredom is yesterday's news – today it's all about Obertraun on Lake Hallstatt!