World Natural Heritage viewing platform
News from the Mountain
More time for all mountain enthusiasts
Also this summer all "summiteers" have more time for an unforgettable mountain experience. Because from 2nd July to 5th November 2022, the cable cars on the Dachstein Krippenstein run 2 hours longer - so all mountain enthusiasts have 2 hours more time on the mountain to visit the numerous attractions or just to enjoy the unique glacier view. At 19:00 there is the last descent from 2,100 meters back into the valley. The summer season has been extended this year until 6th November 2022. The current travel times and prices can also be found below under "Information at a Glance". We wish you an incomparable experience of nature on the Krippenstein in Obertraun on Lake Hallstatt.
The best views of region
The Welterbespirale viewing platform is certainly exciting – in addition to the fantastic views from the spectacular aluminium 'ship', you will also find a photo point and comfortable relaxing recliners here. Ideal for enjoyment and day-dreaming! The Welterbespirale on the 2,100 m peak of the Krippenstein is just a few minutes away from the Krippensteinbahn mountain railway station. It can be accessed via an easy and well established trail – alongside the spectacular 5fingers viewing platform.
Current weather view
Impressions from the Dachstein Hiking World and Free Sports Arena Krippenstein: View from the top station to the Dachstein glacier during a vacation in the Dachstein Salzkammergut holiday region around Lake Hallstatt in Austria.

At the photo point, you can take a picture of yourself and your fellow walkers at the summit and then purchase this from the photographer when you get back down to the valley. Or you can download it for free from this website. Before starting your descent, you should try a spot of sunbathing on one of our popular wooden recliners. Or why not pay a visit to the World Natural Heritage viewing platform and savour the fantastic views of the glacier and surrounding mountain panorama!
Obertraun | Krippenstein: Discover the fairytale world of the Ice cave and follow in the footsteps of the cave researchers through the Mammut Cave and Koppenbrüller Cave. Feel the adrenaline pumping through your veins on the 5fingers viewing platform.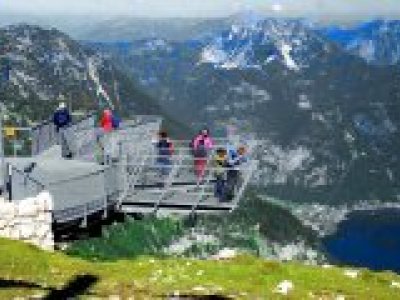 Rustic! Incomparable! Simply Irresistible!
Simply get away from the hustle and bustle, surrounded by nature, cowbells ringing instead of your smartphone…. Holidays up on an Alpine pasture, or in one of the many mountain huts, are becoming increasingly popular. But it is not always easy to find the "right" Alpine pasture or mountain hut. Therefore, we have compiled the most beautiful "Mountain service stations" for you, with stunning panoramic pictures and the most important information for all "newcomers" and World Heritage hikers. As it is usual in the Simonyhütte, the Adamekhütte or Hütteneckalm in Bad Goisern to greet people informally with a "Du" rather that the formal "Sie", as we say here in the UNESCO World Heritage region of Hallstatt Dachstein Salzkammergut…. "Grias di"!