Helga Hummelbrunner's Holiday home - Bad Goisern a. H.
Relax in our lovingly furnished holiday home (for 2-4 people): With the conservatory, which is integrated into the lounge, with light coloured solid wood furnishings, surrounded by beautiful meadows and mountains.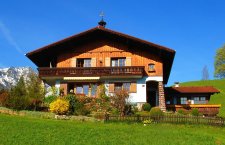 Unfortunately we could not find any free accommodation for the selected period (17.07.2018 - 19.07.2018)
1 rooms or packages available at a different date:
Ferienhaus Hummelbrunner
from € 85,00 per night
Description
"Ferienhaus mit neuem Wintergarten"
Sonnendurchflutete Wohnungen, mit getrennten Schlafzimmern und 1a Ausstattung!
Wohnung in heller Vollholzausstattung, inklusive der Böden!
Jede mit sonnigem Balkon und Bergblick, mit Früh und Abendsonne.
Im Sommer steht für unsere Gäste im Garten, ein Schwimmingpool mit Sonnenliegen und Grillplatz zur Verfügung! Unzählige Ausflugs-und Wanderziele,sowie Badeseen oder Kulturelle Orte werden Ihren Urlaub bereichern. Aber auch im Winter kommen unsere Gäste nicht zu kurz, mit z.B. 140km perfekt präperierte Pisten in unserem tollen Dachstein West Skigebiet, oder lustige Rodelpartien mit Einkehrschwung, unzählige Langlaufloipen mit Einstieg in Hausnähe und vieles mehr!
Entspannung und Erholung für Leib und Seele ist für Sie
und Ihre Familie in unserem gemutlichen Ferienhaus garantiert!
Auch die Private und Gemütliche Atmosphäre sorgen für einen erholsamen Urlaub.
Facilities
Sanitary: Lavatory and bathroom Equipment: Dinette, Refrigerator, Balcony/terrace, Towels available, TV, Seating, Double bed, Coffee machine, Oven, Dishwasher, Windows possible to open, Radio, Bed linen available, Coffee and tea cooking facilities, 1 bedroom, Hair dryer, Dish and kitchen linen available Location: Main building, Mountain facing Floor: 1st floor
Feel like home in Bad Goisern on Lake Hallstatt
"Holiday apartment and small holiday home with new conservatory".Apartments filled with the light and warmth of the sun. Bedrooms separate from the main living area, and top quality furnishings!Both apartments are fully furnished with wood, including the floors!Both apartments have balconies which benefit from the morning and evening sun. Stunning mountain views.In summer our guests have access to a swimming pool in the garden as well as sun loungers and a patio area suitable for barbecues. Nearby are numerous places of local, cultural interest, and there are endless opportunities for hiking, as well as lakes suitable for swimming to make for that perfect holiday. There is lots on offer in winter too with 140 km of perfectly prepared pistes in the Dachstein West Ski Region. The area is perfect for tobogganing and relaxing afterwards in a mountain hut. There are numerous cross country ski trails close to our accommodation, and much, much more!Rest and relaxation for all, in a private and cosy atmosphere, is guaranteed!
Holiday home
New holiday home with conservatory (sleeps 2 to 4 persons): Private entrance, 1 bedroom, shower/WC, lovely relaxation area in the conservatory with small cooking area and dishwasher. Dining/living area, lobby, balcony and terrace, satellite tv and radio.
En route with your hosts!
Clear your head and oxygenate your body's cells. How better than with a hike in the beautiful mountains of the Salzkammergut? Explore our beautiful location with its breathtaking views. Whether spring, summer, autumn or winter - Family Hummelbrunner, from Bad Goisern on Lake Hallstatt, enjoys getting out and about with their guests in the unique mountain world of the UNESCO World Heritage region of Hallstatt Dachstein Salzkammergut.
Facilities
Location
Distance to city centre (in km): 3
Quite environment
Distance to next train station (in km): 3
Rural area
Service
Parking area
Pets on request
No board included
Breakfast service
Equipment
washing machine in the house
Terrace
Room with Balcony
Wifi
Comfortable ambience
Baby chair
Conservatory
Familial ambience
Baby cot
Leisure/Sport
Parasol in pool area
Barbecue facilities
Sun beds in pool area
Garden
Swimmingpool (outdoor)
Themes
Active and sport
Hiking/nature
Mountains
Book Helga Hummelbrunner's Holiday home now!
Send booking inquiry for Helga Hummelbrunner's Holiday home now!
Conditions / Extras
Conditions/extras
Arrival and departure
- Arrival: from 2.00 pm
- Departure: by 9.00 am
Others
- Non-smoking apartment
- Inquiry concerning pets
Your free holiday adventure card!
A holiday, in the UNESCO World Heritage region of Hallstatt Dachstein Salzkammergut, is now twice as rewarding: Enjoy unforgettable experiences and save at the same time! How does this work, you ask? With the Salzkammergut Adventure Card or the Salzkammergut Winter Card. - Depending on the season! These cards are free, when staying for three nights or more and are available from numerous accommodation establishments as well as in the four tourist offices of the Dachstein Salzkammergut holiday region. This will turn your summer holiday in Bad Goisern, Gosau, Hallstatt and Obertraun, into an unforgettable experience! Here is an overview of the attractions and leisure activities where you will receive a discount with the Salzkammergut Adventure Card or the Salzkammergut Winter Card! We wish you relaxing holidays between mountains & lakes within the World Heritage.
Always well-informed
When is the next cable car to the Dachstein Plateau in Obertraun? When does the next sightseeing ship depart from Hallstatt? With the four tourism platforms of the UNESCO World Heritage site of Hallstatt Dachstein Salzkammergut // www.hallstatt.net // www.bad-goisern.net // www.obertraun.net // www.gosautal.net // you will always stay up-to-date on current hours of operation, itineraries and more. If you'd like to use this information for during your stay in the holiday region of Dachstein Salzkammergut, then we would suggest that you save the appropriate website of your holiday destination in your favourites list on your smartphone or tablet. Then, you will always be informed during your holiday in the Salzkammergut. We hope to see you in Hallstatt, Gosau, Bad Goisern and Obertraun!
Information for train travellers
Please note that between 16th July and 2nd August 2018, the towns of Bad Ischl, Bad Goisern on Lake Hallstatt, Hallstatt and Obertraun can only be reached from the direction of Attnang Puchheim (Salzburg / Vienna / Munich). The connection between Obertraun through the Koppental to Stainach Irdning is closed during this period due to construction works. Further information on rail replacement services is available from the four tourist offices of the UNESCO World Heritage region of Hallstatt Dachstein Salzkammergut. Contact details below. We wish you a pleasant journey!
Picturebook of the region around Lake Hallstatt
With all its magical charms, you will never want to leave! An inspirational retreat for philosophers, literary figures, artists and emperors. Experience the intimate atmosphere of this beautiful region. You will feel truly at home, and once here, you will know in your heart that there is no place you would rather be! The broad, tranquil Goisern valley stretches fromHallstatt in the south to Bad Ischl the Emperor's summer residence, to the north. A popular resort in both summer and winter, swimming or cross country skiing, mountain biking or and snowshoe hiking are among the many leisure pursuits Bad Goisern at Lake Hallstatt has to offer. Bad Goisern, located in the heart of Upper Austria, offers that perfect combination of sport facilities, nature, culture and historic tradition.
Book Helga Hummelbrunner's Holiday home now!
Send booking inquiry for Helga Hummelbrunner's Holiday home now!