Winter Holidays in the World Heritage - as special as our time
lso, wir sehen uns im Salzkammergut! Fest versprochen!
Recharge in White
Soak up the sun, enjoy nature and relax with a breath of mountain air - the Salzkammergut is just the right place for anyone who wants to combine winter with a pleasurable holiday, while strengthening their immune system with crystal-clear mountain air.
Also in winter, the Salzkammergut offers relaxation for body, mind and soul. Strengthen your immune system with crystal clear mountain air! You can also replenish your vitamin D levels in a natural way.
By far the best choice
Whether on skis, with snowshoes or hiking boots - locals and guests alike appreciate the extensive outdoor activities on offer in the UNESCO World Heritage region of Hallstatt Dachstein Salzkammergut.
This alone is ensured by the two unique winter sports paradises; Dachstein West in Gosau and the Free Sports Arena on the 2000m high Krippenstein in Obertraun. At the foot of the mighty Dachstein you can enjoy carefree days of relaxation at the highest level. Whether skiing or snowboarding - endless kilometres of slopes are at your disposal. And a clear-blue sky and unlimited sunshine are included free of charge.
Your tracks in the snow
If you want to take it easy, we recommend a winter excursion on snowshoes. The best way is with our guides: Betty and Martha will show you the most beautiful corners and locations of the impressive snowy landscape on the Zwieselalm and Dachstein plateau on their guided snowshoe hikes. A great experience for nature lovers of all ages. Guaranteed!
Fun on the slopes and kitchen secrets
For all those who have discovered cooking or baking for themselves during this very special time, the local delicatessen specialists offer numerous delicacies from the region: organic meat at the "Genusskorb" in Gosau, imaginative mustard creations from the mustard factory in Bad Goisern, delicious bread and baked goods from the Maislinger bakery or Schmied's Bioladen in Bad Ischl on the Götzstrasse - are just a small selection of the healthy, regional offers. Add a cosy holiday flat or a comfortable hotel room and you have a home-made holiday treat.
Holiday is what you make of it!
A break in the Salzkammergut, whether during Advent, at Christmas, at the turn of the year or simply in-between, recharges empty batteries. So, see you in the Salzkammergut! Promised!
More informations
You love skiing, snowboarding, carving or freestyle skiing. Then, Dachstein Salzkammergut is the right place for you. In this region you will find conditions that make your heart beat faster.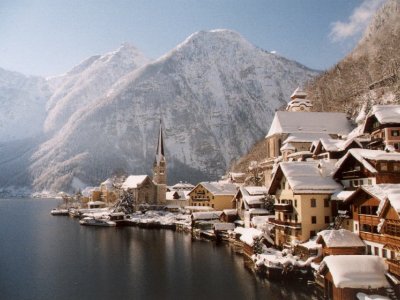 Search and Book
A cosy holiday flat, a chic hotel room or a rustic holiday home; we have the right offer for every budget. Guaranteed!
Start your very personal accommodation search now. Enter arrival and departure dates, click on the number of persons and off you go.