Gosau Village Trail in Gosau
This trail is not difficult.
The Village Trail is the same as the Fairy Tale Trail at the start. Where you reach the turn for the Gosaubach Bridge, keep right. Pass the Vitalhotel Gosau and continue towards Mittertal, keeping to the right of the stream. Pass the Gosauerhof Inn. In Mittertal you cross the stream and return to the Sports Centre with the road on your right. Cross the main road. There now follows a rapid descent along the Lake Gosau road. When you reach the Hotel Sommerhof, cross the main road and the stream.
We now follow the trail along the right hand side of the Gosau in Austria stream until we reach the former Gasthof Gamsjäger. Continue a little way until we reach a fork in the trail. Bear left here, cross the bridge and then cross the main road. The route continues along the other side of the road and alternates between gentle uphill and downhill sections towards Hintertal. We return via the main road, remaining at first on the right hand bank of the river. Just before we reach the Hornspitz ski lifts, we cross to the other side of the river. Continue past the large car park for the ski lift and a few houses. At the end of a long, straight section the trail crosses, for the last time, to the other side of the stream. Keep straight on for the SportsCentre.
Information for cross-country skiing in Gosau
Due to the current weather situation, no snow in the valley and too high temperatures, the cross country trails cannot be groomed. So we are waiting for the snow. We would like to recommend a snowshoe tour on the Zwieselalm to our winter sports friends. You will find all the information below.
You might also be interested in
Cross-country skiing courses in the Salzkammergut: The best providers for cross-country skiing courses in Gosau and Bad Goisern on Lake Hallstatt at a glance.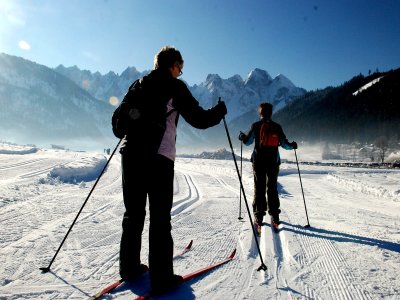 UNESCO World Heritage region of Hallstatt Dachstein Salzkammergut | Stress-free skiing - Travel with the free ski bus. This makes snowboarding and skiing even more fun and saves cash!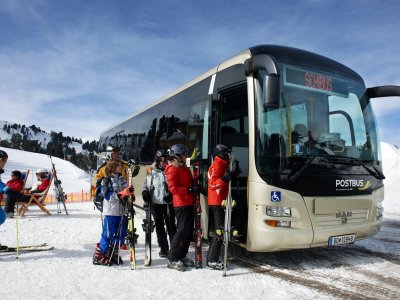 You want a straightforward winter sports holiday without tons of luggage? Or spice up your own equipment with a technical highlight? Our ski rental stores offer advice and services to help get you on the run.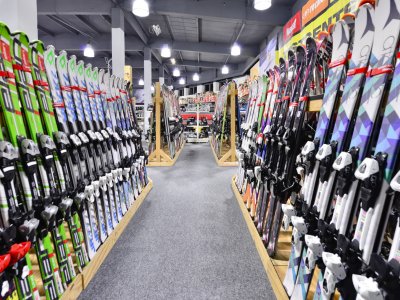 Search and Book
Hotels and accommodation providers in Hallstatt, Bad Goisern, Gosau and Obertraun offer the ideal room or apartment for your holidays, no matter what your tastes. Aside from establishments rated according to the international "star" scale, you will also find around Lake Hallstatt in Austria businesses that have been awarded two to four "edelweiss". The more flowers, the greater comforts you can expect. Whether you eventually find your cozy nest in an elegant 5-star luxury hotel, at comfortable guesthouse, a family-friendly apartment, or on a traditional farm, the choice is always entirely up to you.

.