What are the "Glöcklerläufer"?
On the 5th January, the last of the "Twelve Nights" and the eve of the Epiphany, the custom in the Alpine area is very distinct and varied. The so-called "Anklöckler" are still widespread, as they always have been. Hereby people wearing masks masquerade in groups from house to house and "klöckeln" ("klöckeln" Middle High German = "knock") and ask for drinks and "Krapfen" (donuts). From 1860 to 1873 this custom developed within the salt mining town of Ebensee into the present form of "Glöcklerlauf" parade.
This is characterised by the white robes worn by all of the runners, by the ringing of bells attached to the body by means of belts and the wearing of illuminated caps on their heads. Recent folklore findings bring the emergence of "Glöcklerlauf" parade in combination with the massive rationalisation of the Ebensee salt works. With the switch from wood to coal, with which to fire the "Sudpfannen" (brewing copper), 900 forestry workers lost their jobs, misery spreads. With the development of "Anklöckeln" to "Glöcklerlauf", the impoverished men wanted to provide a spectacle and with the food and donations they received, could at least temporarily relieve their distress.
The "Glöcklerlauf" only established itself as an organised event in 1890, which is supported by numerous articles in the local press. Starting from Ebensee, the custom has spread throughout the Salzkammergut and into parts of Salzburg and Styria. As night falls, the "Glöcklerläufer" gather at various meeting points to begin their run. Each group is led by a forerunner, wearing a turban and a shepherd's crook. The groups run from all quarters towards their common destination. At certain houses and places they run in the figure of eight where the families invite them to a small feast.
Events
Fri, Jan. 5, 2024 16:45 Town square Obertraun (Gemeindeplatz), Obertraun 180 Obertraun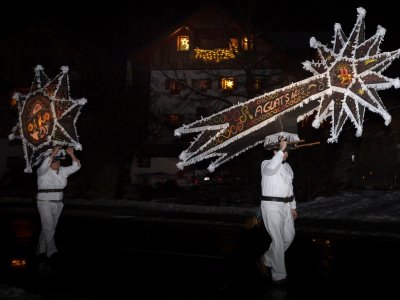 Fri, Jan. 5, 2024 17:00 — 19:00 Bad Ischl, Bad Ischl
Fri, Jan. 5, 2024 20:00 Marketplace Bad Goisern, Marktplatz Bad Goisern
The central element of the "Glöcklerlauf" run are the "Glöcklerkappen" which are illuminated caps. Whilst in the early years, these were relatively small and simple in design; they have evolved over the decades to become very ornate structures. They consist of a mostly geometric structure of thin wooden sticks to which black cardboard is applied. Motives and ornaments had before been drawn onto the cardboard and subsequently painstakingly cut out and punched. Finally, coloured paper is stuck inside behind the motives and candles are mounted, which will illuminate the motives in the evening. Each of the runners would have spent several hundred hours for the construction of their cap.