A place with centuries of history
The grindstone quarries on Gosau's Ressenberg are one of Gosau's most important cultural assets. For at least 500 years, grindstones were mined here, which were sold throughout the Austro-Hungarian Monarchy. After a long interruption, the quarrying of grindstones was recently resumed.
From the "Hintertal" to the destination
As with many other hikes in the UNESCO World Heritage Region Hallstatt Dachstein Salzkammergut, there are also numerous routes for this tour. Our editors have chosen the approximately 2 hour variant "From Hintertal to Grindstone Quarry" for the description. You can ask your hosts or the local tourist office for other options.
The view sweeps over the valley
Our tour takes us from the public car park at the Gasthof Gosauschmied in the "Hintertal" via a well-maintained forest road to the grindstone quarries. The path is signposted and is also ideal for families to hike. Depending on the hiking speed, the ascent takes about 2 to 2.5 hours. Numerous Panoramic views - far across the entire Gosau valley - make time fly by.
Grindstone quarry with 500 years of history
At least since the 16th century, the manufacture and extraction of grindstones has been an important trade in Gosau. In 1563 it was recorded for the first time in a tax declaration. The grindstones are extracted from a sandstone deposit that was formed from a sea 150 million years ago. In this sea there have been several landslides, i.e. a kind of avalanche at the bottom of the sea, which were sorted according to grain size and deposited again in layers.
Mining on a small scale
These processes were often repeated over geological periods, and this is how the finely sorted sandstone beds were built up. In the age of mass production, the labour-intensive extraction of these grinding stones became increasingly insignificant and eventually ceased altogether. Only in recent years has the importance of the Gosau grindstones been rediscovered. Production therefore continues on a small scale.
Perfect combination
Refreshment & Löckermoos
The "Badstub'n Hütte" is only a few minutes' walk from the grindstone quarry. Delicacies from grandma's alpine cookbook await you here in the summer months. Highly recommended! And there is one thing you should not forget on this tour: A visit to the high moor "Löckermoos". This natural wonder and place of happiness is also only a few minutes' walk from the grindstone quarries and is a feast for the eyes for every nature lover.
Let yourself be seduced
Between spring and autumn, the popular Gosau hiking guide Betty offers guided hikes to the grindstone quarries and the "Löckermoos" high moor. The ascent of about 40 - 50 minutes is with the Gosau slow train and is a unique experience for the whole family. Whether on a guided tour or "on your own" - we wish you an unforgettable excursion to the grindstone quarries above the Gosau valley.
Safety Tips for Hikers
Admittedly, the landscape of the UNESCO World Heritage region of Hallstatt Dachstein Salzkammergut is the absolute pinnacle for hiking fans, mountain enthusiasts and nature lovers—unforgettable tours to incredibly beautiful mountain lodges and meadows, panorama views as far as the eye can see and cherished moments that will last a lifetime! However, you should remember that while hiking you might find yourself in high-alpine terrain. We've put together some resources to assist you: how to best prepare for your tour, recommended items for your backpack and steps to take in an emergency situation. Remember to always play it safe and enjoy your hiking adventure in the Salzkammergut!

Continue hiking & places to stop for food & drink
Special offers: Guided tours - Events around this hut
Tue, Jun. 6, 2023 09:30 — 16:00 Sports ground Gosau, Gosau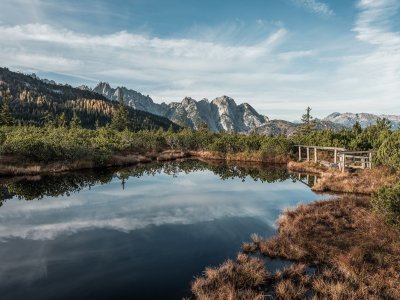 Thu, Oct. 26, 2023 09:45 — 16:00 Sports ground Gosau, Gosau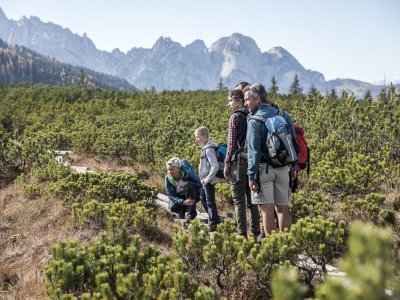 Available accommodation for your hiking holiday in the Salzkammergut
Hotels and accommodation providers in Hallstatt, Bad Goisern, Gosau and Obertraun offer the ideal room or apartment for your holidays, no matter what your tastes. Aside from establishments rated according to the international "star" scale, you will also find around Lake Hallstatt in Austria businesses that have been awarded two to four "edelweiss". The more flowers, the greater comforts you can expect. Whether you eventually find your cozy nest in an elegant 5-star luxury hotel, at comfortable guesthouse, a family-friendly apartment, or on a traditional farm, the choice is always entirely up to you.