Caution at the edge of the glacier!
High above the Gosau valley, at the foot of the mighty Dachstein glacier at 2.196m above sea level, is the Adamekhütte - affectionately named "station of the Alps" amongst insiders. It was once the hut of the Austrian Alpine Club - today a meeting place for mountaineers, hikers and climbers and is surrounded by the foothills of the mighty Dachstein glacier. Its origins date back to 1879: at that time its predecessor was the spartan Grobgesteinhütte which was located further below. The current refuge opened in 1905 and since its last general renovation, is now considered one of the most modern huts in Austria.
Deep orange skies
The hearts of every hike will beat faster at the colourful display as the evening sun sets over the peaks of the UNESCO World Heritage region of Hallstatt Dachstein Salzkammergut. If you want to experience this picturesque sight you should telephone in advance to reserve a sleeping place in a shared room or mattress dormitory.
Not only hikers and rock climbers, but also fans of romantic rustic lodge atmosphere and good food will get their money's worth at the Adamekhütte. Enjoy hearty meals, vegetarian dishes and fresh pastries during a sociable Alpine hut evening! Following the overnight stay, at the Alpine hut, be lured by the perfect morning sunrise, followed by a traditional breakfast. Let yourself be enchanted with a night in the Adamekhütte in the holiday region of Dachstein Salzkammergut!
Trail Route: Gablonzer Hütte – Stuhlalm – Hofpürglhütte über den "Austriaweg"
Duration: 4,5h
Länge: 10 Km
Gosau | Adamekhütte  (Adamek hut): First the way to the Adamekhut seems to be an easy walk along the lake Gosausee. But then, an exhausting hike to the hut follows.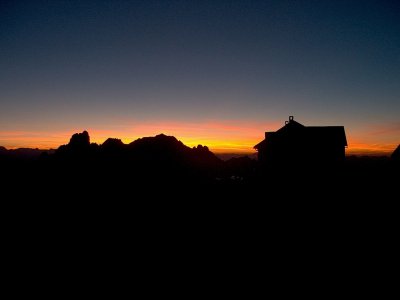 A very beautiful, but not quite unsafe way, which requires high-alpine equipment, vertigo freedom and a good stamina. Duration: 6h.
YouTube id=-uD_Z-LWhCo feature=relmfu width=600 height=335]
Safety Tips for Hikers
Admittedly, the landscape of the UNESCO World Heritage region of Hallstatt Dachstein Salzkammergut is the absolute pinnacle for hiking fans, mountain enthusiasts and nature lovers—unforgettable tours to incredibly beautiful mountain lodges and meadows, panorama views as far as the eye can see and cherished moments that will last a lifetime! However, you should remember that while hiking you might find yourself in high-alpine terrain. We've put together some resources to assist you: how to best prepare for your tour, recommended items for your backpack and steps to take in an emergency situation. Remember to always play it safe and enjoy your hiking adventure in the Salzkammergut!