Audio Guide Tour Hallstatt
Hallstatt stays in the ear
Interested visitors can also experience all stations of the Hallstatt theme trail with the audio guide. For cultural stations, such as the World Heritage Museum or the picturesque market square, interesting and impressive information from one to four minutes are recorded. The focus was less on dates and a series of historical data but rather on stories and a vibrant, exciting narrative. Thus, listeners get transported briefly into another era by background noises.
This way you can discover the romantic saltern village in an entertaining way. Headphones and an MP3 player for the audio theme trail can be simply borrowed from the Hallstatt tourism information office. Whether traveling alone, as a couple or with the whole family: Knowledge is fun – the time flies!  The audio guides of local sounds to go allow you to choose your own pace, to linger at places you like, to listen again to what you find most interesting. . . test it! Lending fee: 5,- Euro (50.- Euro deposit)
Those who wish to experience more, have to take different. routes.Through the historic centre of Hallstatt with exciting stories and history. Exercise and the new insights make the theme trail an ideal leisure activity for the whole family.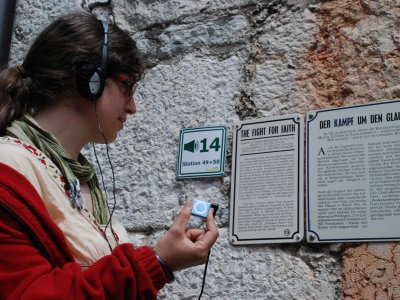 By means of display boards and interactive elements, visitors learn a lot of interesting and useful information about this unique natural and cultural landscape within the UNESCO World Heritage region. Most themed trails can be enjoyed whatever the weather.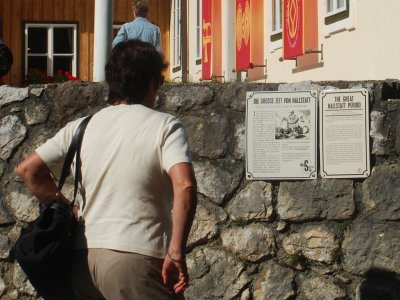 Search and Book
Hotels and accommodation providers in Hallstatt, Bad Goisern, Gosau and Obertraun offer the ideal room or apartment for your holidays, no matter what your tastes. Aside from establishments rated according to the international "star" scale, you will also find around Lake Hallstatt in Austria businesses that have been awarded two to four "edelweiss". The more flowers, the greater comforts you can expect. Whether you eventually find your cozy nest in an elegant 5-star luxury hotel, at comfortable guesthouse, a family-friendly apartment, or on a traditional farm, the choice is always entirely up to you.

.