The cemetery of Hallstatt
The cemetery
The rocky grounds of the parish church became the Hallstatt cemetery. The front is assigned the Evangelist Christians. Following the rules of the cemetery there are no family graves. A grave can be re-occupied after ten years. The dead are buried horizontally; the grave verge covers only a small part of the grave. Above the graves is the sign of Christ, a cross, made of wood or wrought steel.
Hallstatt | With over 1200 skulls (more than 600 of which are painted and sorted by family), this small chapel is one of the most popular locations with visitors to Hallstatt.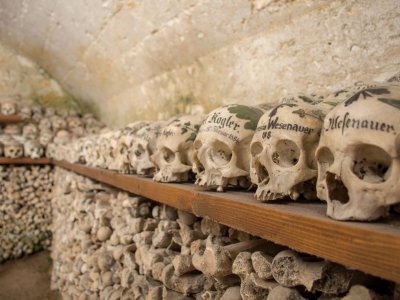 Hallstatt | With the historic ossuary and the small mountain cemetery, the pilgrimage church is a fixture for visitors from all over the world. But it also contains an exciting criminal history ....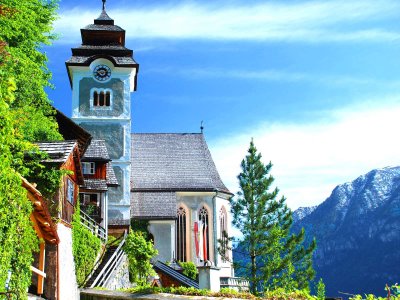 When looking at Hallstatt, you can see how people's beliefs shaped the overall appearance of the World Heritage town. On our 1 ½ hour journey through the picturesque alleys.
Informationen at a glance
Contakt:
The catholic parish church in Hallstatt
Katholische Pfarre Hallstatt
Kirchenweg 40
4830 Hallstatt
Austria
Phone: +43 (0) 6134  8279
E-Mail: pfarre.hallstatt@dioezese-linz.at
Homepage: www.kath.hallstatt.net (only in German)

Accessibility/arrival
For visiting the catholic church you have to walk on the small hill over stonesteps. Arriving there you have the possibility to visit the church, the historic bonehouse with over 600 painted skulls and an amazing view over the area and the town.
By car: parking area on P1, P2 and P3
By train: arriving in Hallstatt you take the ferry to Hallstatt, from the pier you walk 5 minutes | Homepage Austrian Federal Railways (ÖBB)
By bus: you arrive directly on the busterminal, from there it is a walk about 15 minutes | Homepage Postbus