Parkbad Bad Goisern at Lake Hallstatt
Fun, sports and relaxation in the centre of town!
Directly beside the Kurpark (spa gardens), in the centre of the friendly market town, where plenty of parking is available, lie the sunny beaches and lawns of the Parkbad Bad Goisern. Spacious swimming pools offer plenty of space for splashing, sliding and swimming for adults and children. Even after a cold snap you do not need to worry about pleasurable bathing fun in Bad Goisern because the heated pools guarantee pleasant water temperatures in all weather.
Parkbad Bad Goisern is addictive!
And because you cannot spend all day in the water or on the slides, in the Bad Goisern Parkbad you will find plenty of other sports and leisure facilities for all ages; beach volleyball and badminton are just some of them. Equally the Goiserer sun provides holiday tans not only for the sporty ones but also spoils the holidaymakers on their sun loungers. The beach bar offers refreshing drinks, summer treats and of course a seemingly endless variety of ice cream flavors.
Shady trees, a small stream, lots of benches to "unwind" and plenty of peace and quiet. The "Kurpark" (spa park) of Bad Goisern on Lake Hallstatt brings a time-out to everyday life - and right in the centre. An oasis of peace and relaxation. See you there!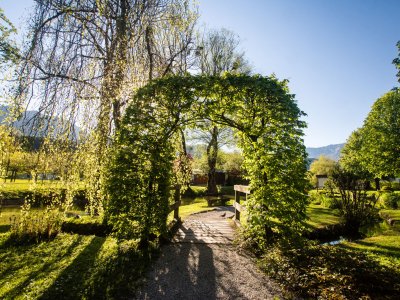 Bad Goisern | The Landler or Transylvanian Landler museum: Discover the traditions and history of the Landler in a rare exhibition.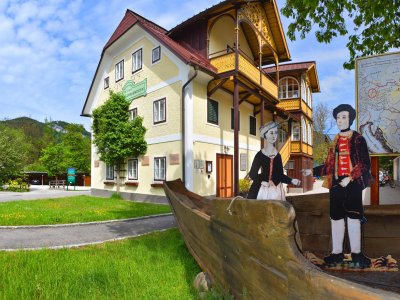 Bad Goisern on Lake Hallstatt | The unique location of the Goiserer Mühle, direct in the well maintained spa gardens of Bad Goisern, is a magical attraction to many of our guests.