Tours
Thanks to Dachstein Salzkammerguts optimum location, the top destinations can easily be reached on short or day tours. There is also plenty to see in the nearby surroundings of the Dachstein Salzkammergut region. A trip to the city of Mozart, Salzburg city, will round off your winter holidays or summer holidays in Austria. In this way, you can experience the combination of Salzburg sights during the day and Salzburgs diverse range of cultural events, gastronomic highlights and nightlife after returning to the city.
Bursting water!
Bad Goisern | Chorinsky Lock: When tons of water dash down to the valley - an unforgettable experience for the whole family.
Bad Goisern Downtown
Bad Goisern | Walkabout: museums, hiking and study trails, churches and the Kurpark - there's lot's to see in the centre of Bad Goisern...
Museums
Here you will find a list of museums and galleries in Hallstatt, Obertraun, Gosau and Bad Goisern.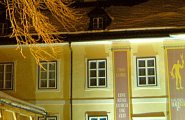 Endless fun in the water...
Russbach | for waterpark lovers: big nature-made swimmingpool with impressive waterfall, non-swimming area, variable jumping possibilities and an exclusive waterslide.
Above lake Wolfgang ...
St. Gilgen (lake Wolfgang) | Mount Zwölferhorn: With the gondola lift you can easily access Mount Zwölferhorn, where you will find a dense network of hiking routes and beautiful panoramas.
Gosau is Geology
Gosau | Ancient forest: Austrians Geological park number one - 600 Million years of history in 6000 seconds - if you have less time you can discover the ancient history of Gosau in just 100 minutes. Open from May untim October 2013!