Tours
Thanks to Dachstein Salzkammerguts optimum location, the top destinations can easily be reached on short or day tours. There is also plenty to see in the nearby surroundings of the Dachstein Salzkammergut region. A trip to the city of Mozart, Salzburg city, will round off your winter holidays or summer holidays in Austria. In this way, you can experience the combination of Salzburg sights during the day and Salzburgs diverse range of cultural events, gastronomic highlights and nightlife after returning to the city.
Bursting water!
Bad Goisern | Chorinsky Lock: When tons of water dash down to the valley - an unforgettable experience for the whole family.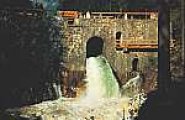 Museums
Here you will find a list of museums and galleries in Hallstatt, Obertraun, Gosau and Bad Goisern.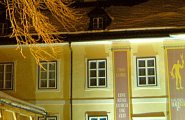 Endless fun in the water...
Russbach | for waterpark lovers: big nature-made swimmingpool with impressive waterfall, non-swimming area, variable jumping possibilities and an exclusive waterslide.
Above lake Wolfgang ...
St. Gilgen (lake Wolfgang) | Mount Zwölferhorn: With the gondola lift you can easily access Mount Zwölferhorn, where you will find a dense network of hiking routes and beautiful panoramas.
Large skull collection
Hallstatt | Visit the ossuary of the Catholic Church of Hallstatt. Here, skulls and skeletal bones of the deceased are stored - the majority of the skulls are artfully painted and labeled.. Open times from 10th of May to 26th of october 2014.
Evangelical Church of Hallstatt
Hallstatt | Evangelical Church: The Neo-Gothic Evangelical Church of Christ exists since 1863. Today, as well as sermons, many cultural events are held there.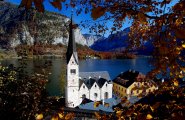 The spa gardens in Bad Goisern
Bad Goisern on Lake Hallstatt | Spa gardens: An oasis of calm and relaxation. Surrounded by old knotted trees, beautiful flower borders and a small stream. With an adventure playground and mini golf.
Pedal pushers conquer the World Heritage
The UNESCO World Heritage region of Hallstatt Dachstein Salzkammergut, between the fjord-like Lake Hallstatt and the enchanting Lake Gosau, at the foot of the mighty Dachstein glacier, offers many opportunities for cyclists. In addition there are numerous e-bike trails available in the region. For e-bikes is the new trend within the bicycle market. For hundreds of thousands they are the new alternative to the car, whilst for others they are an excellent way to enjoy and explore the more mountainous regions. A big hit is the 'Ostuferradwanderweg ' (east bank trail), which leads from the idyllic UNESCO World Heritage town of Hallstatt to Obertraun and then on to Bad Goisern. The return trip to Hallstatt can be accomplished with the pleasure boat "Goisern II" from Steeg. The e-bike trails in the holiday region of Dachstein Salzkammergut are perfectly aligned with the target audience of leisure cyclists. Numerous rental and battery exchange stations will guarantee an unforgettable cycling holiday between mountains and lakes.
Weitere Informationen
Salzkammergut experiments ticket
Save up to 30% off regular rates with public transportation, with shipping and boating opportunities, mountain railways and uphill facilities, salt mines, ice caves & caverns, museums, swimming opportunities as well as with various recreational facilities and activities
Holidays around Lake Hallstatt
Hotels and accommodation providers in Hallstatt, Bad Goisern, Gosau and Obertraun offer the ideal room or apartment for your holidays, no matter what your tastes. Aside from establishments rated according to the international "star" scale, you will also find around Lake Hallstatt in Austria businesses that have been awarded two to four "edelweiss". The more flowers, the greater comforts you can expect. Whether you eventually find your cozy nest in an elegant 5-star luxury hotel, at comfortable guesthouse, a family-friendly apartment, or on a traditional farm, the choice is always entirely up to you.