Hallstatt: Your holiday place in Austria
Millionfold photographed – once copied – never reached
The village Hallstatt is such an unbelievably spectacular place that even the Chinese have created a copy of the ancient salt mine village. But only in the original will you discover this truly unique culture with such a history all in a breath-taking mountain setting. The market municipality was already inhabited in the 1st millenium before Christ: during this period - the iron age - the civilization flourished. The following pages you will discover all there is to make your vacation in Hallstatt an unforgetable one. Find hotels in Hallstatt online and spend an exciting holiday among mountains and lakes with events and culture along with a lot of nature in the UNESCO World Heritage region of Hallstatt Dachstein Salzkammergut. We look forward to your visit!
Easter around Lake Hallstatt
Skiing or spring hiking? In der World Heritage region of Hallstatt Dachstein Salzkammergut you can enjoy both at Easter time. It is simply heaven when the valleys are turning green and the mountains are still dusted in white.
Summer time
World Heritage
History & World Heritage
Since living memory it was the salt which provided the wealth for the Inner Salzkammergut. The salt is the basis for the typical ancient customs and interesting cultural peculiarities.
» World Heritage region & history of Hallstatt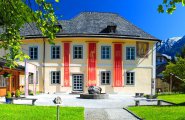 Heritage Museum - A journey through time!
Discover your own personal Hallstatt period on a journey through history - from the Stone Age to the present day in the World Heritage Museum Hallstatt. History does not get any more exciting - come with us!
» World Heritage Museum Hallstatt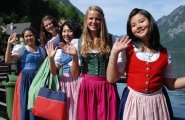 The World Heritage speaks many languages
Information about the World Heritage region around Lake Hallstatt in french, Italian, hungarian, czech. All World Heritage Sites are excellent choices for an excursion beyond the ordinary.
» The World Heritage speaks many languages
Winter time