"Skywalk" of Hallstatt
A top tip for a day out!
Those looking for a bit of excitement and want to enjoy the breath-taking Alpine panorama of the UNESCO World Heritage region of Hallstatt Dachstein Salzkammergut, then the impressive viewing platform on the Salzberg is just right. The so called 'World Heritage Skywalk' hovers 350 meters above the roofs of Hallstatt and offers a unique panoramic view over Lake Hallstatt and the impressive mountain scenery.
A top tip for a day out!
Hallstatt Salt Worlds
Hallstatt | Salt mine: On the trail of the "Man in Salt" in the oldest salt mine in the world. Going through tunnels which have been hand dug by people over 3000 years ago. A Family Experience!  Salt mine open since 1st of April 2017!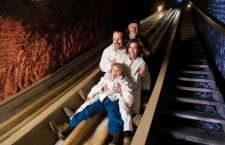 The new visitor attraction is located directly below the former defence tower on the Hallstatt Salzberg (salt mountain). Named after the first Habsburg Rudolf I, the Rudolfsturm (Rudolf tower) was built between 1282 to 1284 by his son Duke Albert I of Austria as a defence tower to protect the mines and buildings of Hallstatt salt mines.
Today the Rudolfsturm houses a restaurant / cafe with a panoramic terrace which serves hearty local delicacies as well as a good cup of coffee and traditional pastries or a slice of cake. It is just a 2 minutes' walk from the top station of the Hallstatt cable car!
There is plenty to discover during a visit to the Salzberg in Hallstatt: The Salzwelten (salt mine) - the oldest salt mine in the world - with the mega-slide, archaeologists at work in the historic burial ground, the walk-through grave and much, much more ... 
Information at a glance
Skywalk of Hallstatt
You can reach the Skywalk in Hallstatt using the funicular railway up the 'Salzberg' (salt mountain). Here the opertaing times of the Salt Mine apply. Of course, you can also hike up to the salt mines: The ascent from the valley takes about 1 hour - descent via a part of the 'Soleweg' (brine path) about 90 minutes.
Opening hours Salzberg cable car 2017
18 Feruary to 31 March 2017: 9.00 to 16:30 hrs.**
1 April to 24 Sep. 2017: 9.00 to 18:00 hrs.
25 Sep. to 5 Nov. 2017: 9.00 to 16:30 hrs.**
6 Nov. to 10 Dec. 2017: 9.00 to 16:00 hrs.**
**last descent
Ascents run constantly!
Duration of the ascent: about 3 minutes

Opening hours 2018
3 Feruary to 25 March 2018: 9.00 to 16:30 hrs.
26 March to 30 Sep. 2018: 9.00 to 18:00 hrs.
1 Oct- to 9 Dec. 2018: 9.00 to 16:30 hrs.
Our advice: Conveniently download prices, opening times and other information for your holiday in the UNESCO World Heritage region of Hallstatt Dachstein Salzkammergut, as a PDF on your tablet or smartphone. So you are always well informed and have all important information at hand.
Tariffs and Opening hours 2017 (PDF 600kB)
Your contact to the
Salzwelten Hallstatt:(Salt Mine)
Salzbergstraße 1
4830 Hallstatt / Austria
Phone: 0043 (0) 6132 200 24 00