Winter time is spa time!
There are many private individuals throughout our region who are qualified to provide healing and energising complimentary treatments. These range from foot massages to aromatherapy.
Gosau indoor pool
Swim a few rounds in the warm water, or just paddle about - a pleasurable way to relax and enliven. Enjoy the spectacular view of the snowy Gosau ridge. Only 20 minutes away.  Closed from 26th of October to 15th of December 2014.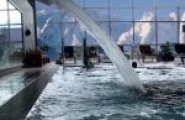 The Vital Bad Aussee - Spa
Bad Aussee | Narzissen Bad Aussee: The newly built, health, spa and wellness resort, is situated in the middle of Austria's breathtaking mountain and lake district, the Salzkammergut area.
EurothermenResort Bad Ischl!
Bad Ischl | EurothermenResort Bad Ischl!: All under the same roof. A wellness centre offering Alambra, Yasumi Sauna with both indoor and outdoor saline pools.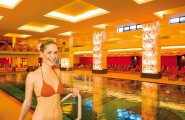 Spa at Bad Mitterndorf
Bad Mitterndorf | GrimmingTherme: Spending time in the GrimmingTherme means just enjoying, nothing to care about and savoring all offers. It is an exceptional place of relaxation surrounded by a fantastic alpine landscape.