Catholic Church of Hallstatt
The catholic parish church of Hallstatt
The catholic parish church in Hallstatt is a beautiful gem in the midst of the world cultural heritage village. the small Romantchurch dates back to 1181, its powerful tower dating back to the 12th century bears witness to this fact. Daringly built in the late Gothic times high up on a rock with a steep drop became finally in 1505 the existing church of today. Shortly after the church became the centre of the fight for faith and was, for a while, protestant. It remained however the always a gem in the heart of all the salt miners and wealthy salt mine lords from Salzburg, in the market square or in the yard. Since 1939 the maintenance of this gem has been in the hands of the small church community along with friends and visitors.In the year 2002 the catholic parish church was completely renovated.
Hallstatt Charnel House
Hallstatt | With over 1200 skulls (more than 600 of which are painted and sorted by family), this small chapel is one of the most popular locations with visitors to Hallstatt.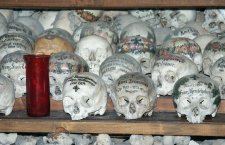 The cemetery of Hallstatt
Hallstatt | The cemetery: The rocky grounds of the parish church became the Hallstatt cemetery. The front is assigned the Evangelist Christians. Following the rules of the cemetery there are no family graves.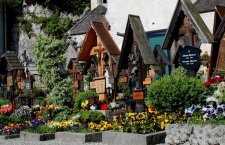 Always well-informed
When is the next cable car to the Dachstein Plateau in Obertraun? When does the next sightseeing ship depart from Hallstatt? With the four tourism platforms of the UNESCO World Heritage site of Hallstatt Dachstein Salzkammergut // www.hallstatt.net // www.bad-goisern.net // www.obertraun.net // www.gosautal.net // you will always stay up-to-date on current hours of operation, itineraries and more. If you'd like to use this information for during your stay in the holiday region of Dachstein Salzkammergut, then we would suggest that you save the appropriate website of your holiday destination in your favourites list on your smartphone or tablet. Then, you will always be informed during your holiday in the Salzkammergut. We hope to see you in Hallstatt, Gosau, Bad Goisern and Obertraun!