Active summer holiday
Come do...
Resting on a lush green alpine pasture: The Dachstein-Salzkammergut-region can offer unrivalled views: rugged mountain tops, clear mountain lakes, glaciers, green alpine pastures combined with numerous walks and trips. Whereas during the hot summer somewhere else the wild waters become feeble brooks, in Hallstatt, Gosau, Bad Goisern and Obertraun you can ride the wild waves on a kayak, a rafting boat till late autumn or other active sports.
Hiking Holidays around Lake Hallstatt
You will be spellbound by the magic world of the Dachstein and the other landmarks in the Inner Salzkammergut. Explore the most beautiful spots of this region on numerous small romantic paths and trails or on comfortable and well developed hiking trails.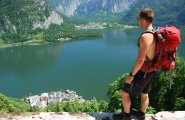 Rock Climbing
Rock climbing has become very popular in region Dachstein-Salzkammergut over the last number of years. And no wonder – there thousands of cliffs, bluffs and crags for climbers to test their skills.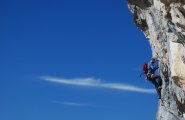 Bathing at Lake Hallstatt
Dachstein Salzkammergut | Swimming/Bathing: Whether it is after a wonderful hike in the mountains, a day trip or simply a swimming day with the whole family - we offer bathing fun to suit every taste.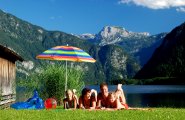 Captain for the day
Boat rental | Experience the lakes around Hallstatt at their best – during a boat trip with friends or the whole family. Enjoy the absolute peace on Lake Gosau and the fantastic panorama of Lake Hallstatt.
Mountain Bike Tours
You want to bike at the most beautiful places? Well, then you have no other alternative than the Salzkammergut – no matter in what shape you are, how fast you want to go, how old you are! The tracks around the fascinating Dachstein promise no stress, breathless fun, healthy exhaustion and a mental incitation.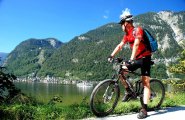 I want to dive
Diving | Salzkammergut: The crystal clear mountain lakes of Gosau and Hallstatt are amongst the most attractive diving areas in Europe. That is what makes diving in the Salzkammergut so appealing.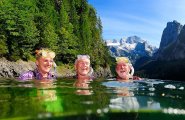 Paragliding (Tandem Flights)
Flight vacation | Paragliding from Krippenstein/Obertraun - 2100 meters above sea level. This is a wonderful flying area with a fantastic panorama
The magic of water
Hiking and mountain biking is getting more and more popular, but also rafting, canyoning, kayaking be the ultimate recreation for a sporty tourist!
Nordic walking tours
It doesn't have to be extreme sports: The Dachstein-Salzkammergut-region offers plenty of different holiday activities during your summer holidays that will help you get fit gently. Nordic walking is particularly popular.
"Tight lines!" in the Salzkammergut
Are you looking for a bit of peace and quiet during your summer holidays in the Dachstein-Salzkammergut-region? Then try out fishing in Hallsattt, Obertraun, Gosau an Bad Goisern - the lakes and rivers are crystal clear, often of drinking water quality.
Tennis
There are three well maintained tennis courts at your disposal a guaranteed sport fun.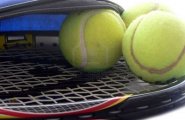 Golf in the Salzkammergut
Salzkammergut | Golf: Golfers will find seven dream golf courses within the Salzkammergut. Whether on the shores of Lake Fuschl, Mondsee, Attersee, Traunsee or in Ausseer Land, diverse fairways, manicured greens and stunning surroundings will inspire any golfer.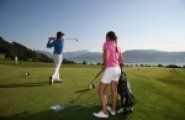 Rafting in pure nature
Bad Goisern on Lake Hallstatt | Rafting: Whether you never been in a boat before, or are a weathered rafter used to all types of waters: High waves, imposing rollers and six weirs. Here is what you have been looking for!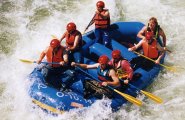 Information for our guests: Caves and Salt mines closed!
Please note that the cave worlds in Obertraun on Lake Hallstatt are closed from 28th of October 2014 to 1st of May 2015 as are the salt mines (salt mine) in Hallstatt from the 3rd of November 2014 to 20th of 25th of April 2015. As an alternative, we recommend the salt mines in the Styrian Altausee. The spectacular viewing platform Five Fingers can also be reached in the winter on a snowshoe hike. We look forward to seeing you in the summer of 2015. You do not want to wait that long? The UNESCO World Heritage region of Hallstatt Dachstein Salzkammergut also has its charms in winter! Take a look at our winter pages!
Unforgettable moments in a World Heritage region
Accommodation
he nicest hotels, apartments, B&Bs, holiday homes and campsites, at a glance, for your stay in the Dachstein Salzkammergut holiday region. Booking rooms in Hallstatt, Bad Goisern, Gosau und Obertraun.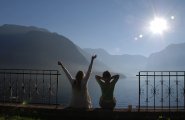 Active Vacations around Lake Hallstatt
With its world of breathtaking mountains around Lake Hallstatt, the area around also offers everything for a unique and unforgettable active vacation in the UNESCO World Heritage region of Hallstatt Dachstein Salzkammergut. Whether families, children or young adults, singles, groups or active vacationers – here everyone finds just what they've been looking for. The breadth of opportunities for your sports holiday in Hallstatt in Austria, combined with famous spas in Bad Aussee and Bad Ischl, makes designing an active and regenerating vacation child's play.