"Waldbankerl" holiday home - Bad Goisern a.H.
Spacious holiday home with three double bedrooms for up to 6 people, large garden, terrace, cosy living room with a tiled stove - in a quiet location, directly on the edge of a forest. Perfect for families!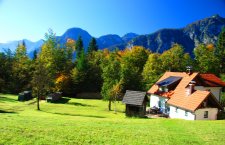 Unfortunately we could not find any free accommodation for the selected period (25.06.2018 - 27.06.2018)
1 rooms or packages available at a different date:
Ferienhaus Waldbankerl
from € 100,00 per night
Facilities
Sanitary: Bathtub, Washbasin, Lavatory and shower and bath on the floor, Separate lavatory, Windowed bathroom, Towel dryer Location: Main building, Garden facing, Land side, Mountain facing Equipment: Double bed, Internet TV, Radio, Wifi, Bed linen available, Dishwasher, Refrigerator, Terrace, 3 bedrooms, Windows possible to open, Coffee machine, Seating, CD player, Towels available, Non smoking room, Toaster, Balcony/terrace, Hair dryer, Separate kitchen, Telephone in the room, Dinette, Coffee and tea cooking facilities, Satelite TV, Ironing board, Separate mattresses, Windows with noise protection, Dish and kitchen linen available, Allergic friendly, TV, Chimney, Mirror
The UNESCO World Heritage region of Hallstatt Dachstein Salzkammergut is one of the most beautiful holiday regions in Austria. Between Lake Hallstatt and Gosau await spectacular natural beauty, extensive hiking and skiing oppotunities, as well as a variety of sights and attractions for the whole family.
Close to nature and down to earth
Forget your everyday life; immerse yourself in an unforgettable holiday in the "Waldbankerl" holiday home on Lake Hallstatt in Austria. Arrive and feel directly at home! A special type of holiday awaits you in the holiday home of Siliva Roch: familiar, cosy, close to nature and down to earth.
There are not many places where you will be welcomed as a good friend. Due to the warm hospitality of your hostess you can enjoy your holiday, in Bad Goisern, from the very first moment.
Unforgettable holidays at Lake Hallstatt
The spacious house, with its three double bedrooms and a spacious bathroom with bath and shower on the first floor, is located above the Lake Hallstatt directly on the edge of the forest. Behind the house is a cosy bench where you can enjoy the evening sky, magnificent sunsets and the numerous deer which always stop by. The holiday home owes it's name to this bench as "Waldbankerl" means no more than "forest bench".
In summer, children can let off steam on the big lawn and in winter enjoy sledging or try skiing for the first time.
For nature lovers, hikers and bikers
There are many reasons to spend a holiday in the "Waldbankerl" holiday home: sports enthusiasts will appreciate the richly varied outdoor activities, those seeking peace and quiet can recharge their batteries and families can spend a carefree holiday close to nature around Lake Hallstatt. Whether hikers or bikers - your hostess Silvia Roch knows many unspoiled spots in holiday paradise around Bad Goisern. However different the needs on holiday may be, all guests have one thing in common: they all feel comfortable and snug in the cosy atmosphere of the "Waldbankerl" holiday home in the UNESCO World Heritage region of Hallstatt Dachstein Salzkammergut. We look forward to your inquiry and wish you an unforgettable holiday around Lake Hallstatt.
Dear guests! The idea of the "Waldbankerl" holiday home was only conceived in late autumn 2013. The feel-good house has only started to be let since February 2014. Therefore summer photos will follow….
Facilities
Location
Distance to the forest (in km)
Outskirts
Distance to next public transport station (in km):
Distance to airport (in km): 65
Distance to next ski lift (in km): 16
Distance to the beach (in km): 1
Rural area
Distance to city centre (in km): 4
Distance to next train station (in km): 2
Quite environment
Distance to the lake (in km): 1
In the mountains
Distance to the old town (in km): 10
Service
Parking area
Bike storage
Pick-up service from next railway station
Train station shuttle/ transfer service
Lawns for sunbathing
Bus parking
Ski cellar
Pets not permitted
Cash only
Capacities
Number of double rooms: 3
Equipment
Familial ambience
Wifi
Chimney
washing machine in the house
Non-smoking host
TV-room
Terrace
Children's playroom
Sauna
Leisure/Sport
Hot-air ballooning
Disco
Aerobics
Ski school
Hiking trails
Boat hire
Garden
Swimmingpool (indoor)
Surfing
Beauty treatments
Bike rental
Horse riding
Playground
Water sports facilities
Steam bath
Barbecue facilities
Ski slope
Tennis court (outdoor)
Boat-trips
Soccer/football
Swimmingpool (outdoor)
Petting zoo
Beach volleyball
Ice skating
Massage
Solarium
Water ski
Inhouse bowling
Golf course
Sailing
Diving
Archery
Gym
Squash
Wellness offers
Book "Waldbankerl" holiday home now!
Send booking inquiry for "Waldbankerl" holiday home now!
Conditions / Extras
Conditions/extras
Arrival and departure
- Arrival: from 4:00 pm
- Departure: by 10:00 am
- Upon prior inquiry it is possible to store luggage here on the arrival and departure days
Cancellation
- In the case of a cancellation, the Austrian hotel contract laws apply in their current form
Payment
- In the case of a fixed booking we ask for a down payment of 30% of the total booking price
- We ask for this to be paid into our account within 10 working days
Others
- This is a non-smoking house
- Pets are not allowed
Your free holiday adventure card!
A holiday, in the UNESCO World Heritage region of Hallstatt Dachstein Salzkammergut, is now twice as rewarding: Enjoy unforgettable experiences and save at the same time! How does this work, you ask? With the Salzkammergut Adventure Card or the Salzkammergut Winter Card. - Depending on the season! These cards are free, when staying for three nights or more and are available from numerous accommodation establishments as well as in the four tourist offices of the Dachstein Salzkammergut holiday region. This will turn your summer holiday in Bad Goisern, Gosau, Hallstatt and Obertraun, into an unforgettable experience! Here is an overview of the attractions and leisure activities where you will receive a discount with the Salzkammergut Adventure Card or the Salzkammergut Winter Card! We wish you relaxing holidays between mountains & lakes within the World Heritage.
Always well-informed
When is the next cable car to the Dachstein Plateau in Obertraun? When does the next sightseeing ship depart from Hallstatt? With the four tourism platforms of the UNESCO World Heritage site of Hallstatt Dachstein Salzkammergut // www.hallstatt.net // www.bad-goisern.net // www.obertraun.net // www.gosautal.net // you will always stay up-to-date on current hours of operation, itineraries and more. If you'd like to use this information for during your stay in the holiday region of Dachstein Salzkammergut, then we would suggest that you save the appropriate website of your holiday destination in your favourites list on your smartphone or tablet. Then, you will always be informed during your holiday in the Salzkammergut. We hope to see you in Hallstatt, Gosau, Bad Goisern and Obertraun!
Bad Goisern: The landscape garden on Lake Hallstatt
The wide and charismatic valley of Bad Goisern stretches out from Hallstatt in the south to Bad Ischl, the summer holiday resort of the emperor in the north. Discoveries dating back to the Stone Age and the Hallstatt period enable us to establish that there was a close contact with villagers from the surrounding regions. The wood and agriculture industry developed very early in the wide fertile valley of Bad Goisern, to supply the mine in Hallstatt. This is how Bad Goisern is where it is now, on prettiest landscapes of the Salzkammergut. This enchanting village used to be called "The Monarchies most beautiful village" and still hasn't lost any of its charm.
Book "Waldbankerl" holiday home now!
Send booking inquiry for "Waldbankerl" holiday home now!