Winter hiking in Obertraun on Lake Hallstatt
A winter dream on Lake Hallstatt
Obertraun has much to offer as a high winter alternative to the rough and tough tracks from the Dachstein. Hallstatt offers an attractive alternative along the snow tracks beside the forest brook in the winter beauty. This route is cleared of snow only until the last house in Echern valley but most of the time you will still find fresh footprints in the path made in the dreamy, quiet winter world.
Deep winter on River Traun
A wild and romantic trail along the banks of the River Traun: This wild and romantic walk along the banks of the River Traun leads you into the woodlands, deep in snow. Our destination is the so-named "Ebnersteg". We cross the bridge and walk along the opposite bank of the river back to our start point. An alternative is to walk through the village of Obertraun to the start point.
Obertraun | Mount Krippenstein: SSnowshoeing with a magnificent panoramic view of the snowy Dachstein mountains at the World Hertitage Side Hallstatt Dachstein Salzkammergut.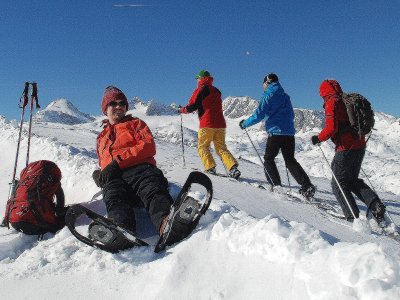 Informationen at a glance
Tour infos "Along river Traun"
Duration: 1.5 hours
Length: 4 km
Metres of altitude: 30m
Starting point: Dachsteinhof Inn
Destination: Dachsteinhof Inn
Details – hiking: cleared winter hiking path
Please remember:
The cross-country ski trails and ski slopes are specifically and exclusively prepared for winter sports participants. Foot prints not only damage the slopes or cross-country tracks, but can also be dangerous for the winter sports participants. If you observe this, nothing will stand in the way of your unforgettable winter holiday is in the Dachstein Salzkammergut holiday region!