Snowshoeing on the theme Trail
Traveling through the Echerntal
Glistening snow, frosty fir trees with small bonnets of snow, the quiet splashing of the frozen forest streams and the peaks of the majestic white mountain walls of Echerntal; all invite you to a very special winter hike during a holiday in the snow: Whether on Shanks' pony or easily and conveniently with snowshoes, the "trail Echerntal" is also in winter a downright history hit. On numerous, elaborate graphic boards, inquisitive winter hikers can learn more about the history, flora and fauna of the UNESCO World Heritage region of Hallstatt Dachstein Salzkammergut. The start of the trail you can also be easily reached by car. Snowshoes and poles, for the approximately two-hour tour, can be obtained from the Janu sport shop located in the centre of Hallstatt. Experience your very special winter dream!
Do you love to experience unusual original nature? Then you should definitely give snowshoeing a try. Enjoy the silence of winter, experience the untouched nature and immerse yourself into the enchanted winter wonderland far from the crowds and hustle and bustle.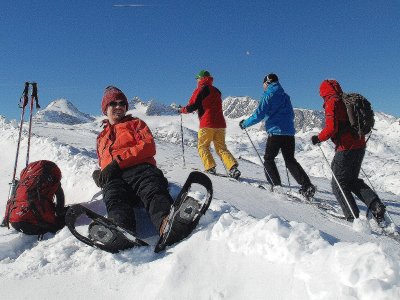 Informationen at a glance
Please remember:
The cross-country ski trails and ski slopes are specifically and exclusively prepared for winter sports participants. Foot prints not only damage the slopes or cross-country tracks, but can also be dangerous for the winter sports participants. If you observe this, nothing will stand in the way of your unforgettable winter holiday is in the Dachstein Salzkammergut holiday region!