Chorinsky Lock Bad Goisern
Cultural-historical monument in the Weißenbach Valley built in 1819. Backed up masses of water were used to float down felled trees into the Traun river. Nowadays one can watch the "beating" of the Chorinsky Lock from mid-June to the beginning of September. You can reach the Chorinsky Lock from 14.00 o'clock by car, bike or motorbike or small busses. Last return: 19.00 o'clock. The Salzkammergut always needed large amounts of wood, but there was never enough, so they had to get it from elsewhere. This is the reason why the forester Pfifferling began to build the Chorinsky Lock in the Weißenbach Valley in 1850. Since 1819, the opening year, until 1850 the richness of wood in the Weißenbach Valley used to cover the needs of the salt mines in Bad Ischl and part of the needs of Hallstatt. This is probably the period of the stories told, that there were 100 lumber jacks working in the Weißenbach Valley throughout the whole year.
How we "beat" the Chorinsky Lock
A few hours before we beat the lock we close the gates. The storage level gets up to the upper side of the lock gates. The source for the slack flow is situated approx. 200m upstream. Depending on the flow conditions of the Weißenbach Valley in Bad Goisern, about 4000 cm³of water get retained, that burst out within 5 minutes during the beating of the gates. So there are about 13 cm³ of water per second, dashing down the stream.
Bad Goisern | Chorinsky Klause (logging dam): Through the romantic Weißenbach valley to the last wooden logging dam in Austria. About a three-hour adventure hike for the whole family.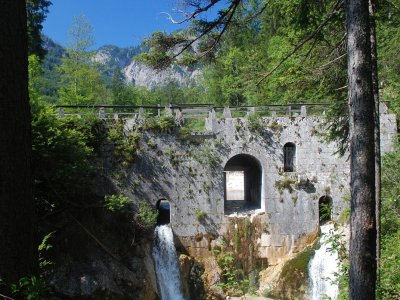 Information at a galnce
Bus stop & Railway station: Jodeschwefelbad Bad Goisern on Lake Hallstatt
Transportation Tip: Travel simply and quickly to the UNESCO World Hertiage Region of Hallstatt Dachstein Salzkammergut with the Austrian Federal Railways (ÖBB). All aboard . . . !