From Hallstatt to Koppenrast 
From the tourism office in Lahn, the route follows the Seestraße into the village centre until reaching the boat dock. Hikers cross Lake Hallstatt via boat (these run at frequent intervals) to the Hallstatt train station. From there, the trail heads to the right along the lakeshore on a partially-asphalted path to arrive at the first boat huts of Obertraun. At the trail marker, the route leads left under the train tracks and heads uphill in the direction of the Höhenweg path. The trail then heads into the valley along this beautiful hiking path high above the houses of Obertraun. The broad trail begins to descend as it nears the valley and arrives at the Obertraun-Koppenbrüllerhölle train station and the Gasthaus Koppenrast inn.
From the Koppenrast to Bad Aussee 
From the Gasthaus Koppenrast inn, the route follows a wide hiking trail to the entrance of the Koppenbrüller Caves (exhibition caves). The trail continues along the rushing Traun River to the snack station Koppental. Following the Traun, the trail crosses the river on a suspension bridge and then leads uphill to a forest road. The route continues to the right to the first houses of the Sarstein community. The trail goes straight ahead along the narrow street until it reaches the street leading to Lake Sommerberg. The route heads right along this street for 500 metres and then turns left through a lane to cross over the main highway. The trail then steeply descends into the centre of Bad Aussee.
Aussseerland | Heartfelt greetings - "Grüß Gott" from the holiday area Ausseerland - Salzkammergut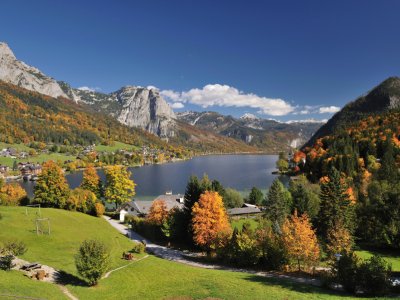 The 10km long trail leads from Obertraun to Bad Aussee through the romantic Koppen valley. Total walking time is around 3 hours. You will need sturdy walking shoes. There is an opportunity to stop off for refreshments in the Koppental valley.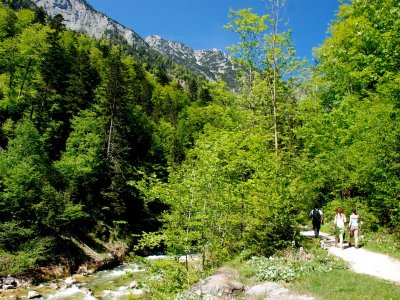 Events
Tue, Jan. 2, 2024 17:00 — 20:00 Koppenbrüller cave (Koppenbrüllerhöhle), Obertraun
Wed, May. 1, 2024 Koppenbrüller cave (Koppenbrüllerhöhle), Obertraun