Breathe in the fresh pasture air
The rustic Ebenalm is just about an hour's walk from the "Vordere Gosausee" (front Lake Gosau). The family-run mountainous-good "resting place" for hikers and mountain bikers spoils the nature loving holidaymakers with their homemade specialties such as Hanni's "Kaspressknödel" and daily fresh pastries – all within the nature. The ideal stopover for anyone on "Shank's pony" or bike. The ideal time out from the hectic everyday life.
A break for pedal pushers
Mountain bikers love the cosy mountain hut and it is located on the popular cycling route "Rund um den Plassen" (around the Plassen) and also the varied "Dachsteinrunde". Simply fantastic! There is always plenty of time for a delicious snack or a thirst quencher.
Unforgettable alpine dream
Time to totally relax. Stay overnight in a rustic mountain hut and witness the sunrise over the Gosaukamm. No problem! It is possible with a hut evening for the whole family. A rustic overnight stay, get up early and enjoy the colourful sunrise - then a savoury and sweet Alpine breakfast. The typical ringing of the cowbells is free of charge. An alpine overnight on the Ebenalm for all senses.

Tips: Hiking in autumn
Autumn is here! Hooray! The most beautiful hiking season of the year! However, there are a few things you should keep in mind when hiking, especially at this time of year.
Plan tours properly.
Start early. Especially for high alpine hikes.
Attention: It gets dark early!
If you are staying overnight in a hut, register in good time by telephone.
Do not miss the last cable car ride down the mountain when on mountain tours.
Information on the current operating times of the cable cars in connection with a hike can be found below under "Information at a Glance".
Check snow conditions. Because at this time of the year the first snow can already fall in the high mountains.
We have summarised further important safety tips below.
We wish you an unforgettable hiking autumn in the Salzkammergut.
Your editorial team
Safety Tips for Hikers
Admittedly, the landscape of the UNESCO World Heritage region of Hallstatt Dachstein Salzkammergut is the absolute pinnacle for hiking fans, mountain enthusiasts and nature lovers—unforgettable tours to incredibly beautiful mountain lodges and meadows, panorama views as far as the eye can see and cherished moments that will last a lifetime! However, you should remember that while hiking you might find yourself in high-alpine terrain. We've put together some resources to assist you: how to best prepare for your tour, recommended items for your backpack and steps to take in an emergency situation. Remember to always play it safe and enjoy your hiking adventure in the Salzkammergut!

Hiking tips & other huts and alpine pastures
Gosau | Breath-taking glacial views, rustic alpine huts, challenging fixed-rope climbing routes, sensational water settings—a travel destination with endless possibilities!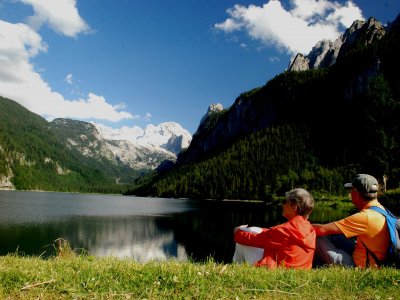 Prächtige Ausblicke auf das berühmte Dachsteinmassiv begleiten den Biker bei der Talfahrt zum Vorderen Gosausee.
Available accommodation for your hiking holiday in the Salzkammergut
Hotels and accommodation providers in Hallstatt, Bad Goisern, Gosau and Obertraun offer the ideal room or apartment for your holidays, no matter what your tastes. Aside from establishments rated according to the international "star" scale, you will also find around Lake Hallstatt in Austria businesses that have been awarded two to four "edelweiss". The more flowers, the greater comforts you can expect. Whether you eventually find your cozy nest in an elegant 5-star luxury hotel, at comfortable guesthouse, a family-friendly apartment, or on a traditional farm, the choice is always entirely up to you.

.