Places of happiness: Hoher Sarstein
Front row seat with happiness
Feel the sense of freedom, forget the World for a moment and watch what is happening down in the valley from a bird's eye view. The lucky place on the "Hohen Sarstein" is not for people in a hurry but rather a place for connoisseurs. For those who manage the nearly three to four hours climb over either via the "Niedere Sarsteinalm " or the "Obertrauner Sarsteinhütte" will be rewarded with a unique Alpine panorama. Leave your trouble and toils behind you during the ascent of the 1,975m high mountain, as you lie down in the lush, green grass by the summit cross. The silence is only interrupted by the cries of the Alpine choughs and the bleating of sheep, which from June to September spend their "summer holidays" around the summit cross. A truly unique front row seat for nature lovers and Alpine photographers.
Our tip: Combine the hike over the Sarstein with an overnight stay in one of the huts. We have put together below more information such as hiking links and contacts.

Tips: Hiking in autumn
Autumn is here! Hooray! The most beautiful hiking season of the year! However, there are a few things you should keep in mind when hiking, especially at this time of year.
Plan tours properly.
Start early. Especially for high alpine hikes.
Attention: It gets dark early!
If you are staying overnight in a hut, register in good time by telephone.
Do not miss the last cable car ride down the mountain when on mountain tours.
Information on the current operating times of the cable cars in connection with a hike can be found below under "Information at a Glance".
Check snow conditions. Because at this time of the year the first snow can already fall in the high mountains.
We have summarised further important safety tips below.
We wish you an unforgettable hiking autumn in the Salzkammergut.
Your editorial team
Safety Tips for Hikers
Admittedly, the landscape of the UNESCO World Heritage region of Hallstatt Dachstein Salzkammergut is the absolute pinnacle for hiking fans, mountain enthusiasts and nature lovers—unforgettable tours to incredibly beautiful mountain lodges and meadows, panorama views as far as the eye can see and cherished moments that will last a lifetime! However, you should remember that while hiking you might find yourself in high-alpine terrain. We've put together some resources to assist you: how to best prepare for your tour, recommended items for your backpack and steps to take in an emergency situation. Remember to always play it safe and enjoy your hiking adventure in the Salzkammergut!

Rustic! Incomparable! Simply Irresistible!
Simply get away from the hustle and bustle, surrounded by nature, cowbells ringing instead of your smartphone…. Holidays up on an Alpine pasture, or in one of the many mountain huts, are becoming increasingly popular. But it is not always easy to find the "right" Alpine pasture or mountain hut. Therefore, we have compiled the most beautiful "Mountain service stations" for you, with stunning panoramic pictures and the most important information for all "newcomers" and World Heritage hikers. As it is usual in the Simonyhütte, the Adamekhütte or Hütteneckalm in Bad Goisern to greet people informally with a "Du" rather that the formal "Sie", as we say here in the UNESCO World Heritage region of Hallstatt Dachstein Salzkammergut…. "Grias di"!
Information at a Glance
Location: 1.975m
Duration: between 3 and 4 hours (ascent)
Equipment: hiking boots, backpack with food and plenty of drinks.
The complete Sarsteinüberquerung (Sarstein Crossing) is an extended but rewarding whole day's tour. 9 or 10 hours. Mountain fans have the loveliest panoramic view here in the alpine world.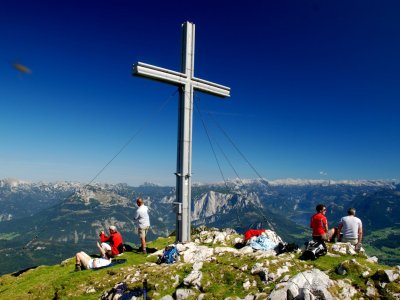 UNESCO World Heritage of Hallstatt Dachstein Salzkammergut | Places of happiness: Find the best areas of tranquillity, energetic places and relaxation points between lakes and mountains! Holiday for body and soul. Stock up now!