Each paddle stroke offers a new perspective
Ahead the bow waves lap, left and right gargle the swirls that were set by the paddle in the water. The eyes wander from the towering 2000m high Krippenstein to the mighty Sarstein, and all gloomy thoughts sink into the crystal clear water. Numerous bathing area, such as the one in Untersee (Bad Goisern), the tranquil bathing island in Hallstatt or the leisure centre in Obertraun invite you to take a spring into the cool waters.
Bad Goisern on Lake Hallstatt | Insider tip amongst hikers and cyclists. Excellent cuisine with magnificent views. Easy to reach by boat. Dinner is served!
Events
Sat, May. 1, 2021 Gosaumühle Parkplatz,
Sat, May. 1, 2021 Hallstättersee, Hallstatt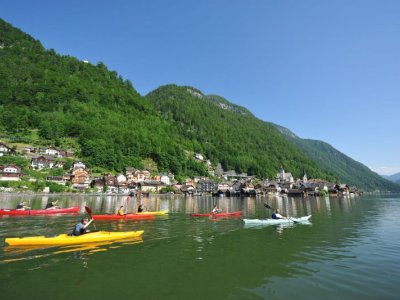 On Lake Hallstatt there is an almost endless variety of impressions, which are accessible from a kayak: Practically from any point, the emerald green mountain lake looks different. This is due to on one hand the numerous bays and the mountain scenery, and on the other to the numerous large and small streams that feed the lake crystal clear waters.
But also on the eastern shore of the fjord-like lake you will always find excellent small places and corners to "set anchor": for example, the "Goiserer Platzl". Whoever wishes to make a stop here can let their culinary pleasures run free in the adjacent restaurant destination "Seeraunzn".
A day in a kayak on Lake Hallstatt does not cost much, but it brings a lot of fun and impressive experiences, from dreamlike mountain and landscape panoramas to encounters with water birds of all kinds. With a little luck you can even see the odd fish jump right in front of your bow!
Sea Kayak or Canoe Rental on Lake Hallstatt
What could be nicer than exploring our beautiful Salzkammergut lakes by boat? Outdoor Leadership in Bad Goisern rents out 1-seater kayaks or two/three-seater canoes.
Duration: May to September 30, 2020

Meeting point: by arrangement
Rental prices:
Sea kayak single seater: half-day €30 / full-day €40 (including life jacket, dry bag)
Canoe 2-3 seater half-day €45 / full-day €55 (including life jacket, dry bag)
Requirements: good swimming skills
Suitable for families (children from 10 years), private individuals, small groups
Bring with you: normal leisure clothing, possibly swimwear (depending on the season)
Equipment: is provided (life jacket, spray deck, dry bag)
How do storm warning beacons work?
Whether you're out in a rental boat from one of the numerous rental agencies on Lake Hallstatt or underway in your own vessel, there is always a potential for storms or high waves on the lake. Storm warning beacons call attention to the weather conditions in the area. The storm warning beacons (an orange, blinking spotlight) are positioned in the north and south so that at least one signal is visual from any point on the lake. In this manner, water enthusiasts can be immediately warned in the event of strong winds or storms. You should be aware of and heed the respective signals. A quickly rotating light signifies an approaching storm. You should leave the water immediately! A slowly rotating light means that a storm can arise at some point in the near future. You may remain on the water but stay close to shore. Should you find yourself in a dangerous situation, call the emergency number 130. Your boat rental agency is available to answer additional questions. We hope you have a memorable and safe outing on Lake Hallstatt.