Family via ferrata "Little Bear" in Obertraun
Climbing fun for the whole family
The adventurous climbing experience especially for children on the new "Little Bear via ferrata" - climbing fun for young and old! The family via ferrata on the 2000 meter high Krippenstein in Obertraun is the perfect beginner's via ferrata for children and beginners and besides a bit of adrenaline, offers a special mountain experience for the whole family.
For kids and beginners
The climbing route in difficulty level A can be climbed by children and beginners from a height of 1.35m and offers the climbing rookies along wire ropes, treads and suspension bridges, a great climbing experience. The only hurdle is that the children must reach the rope in a cave of 1.35m at the measuring station (Little Bear),
Video Family via ferrata "Little Bear" (German)
Safety on the rock face
In recent years rock climbing has developed encouragingly strong and each year inspires more and more people. Its versatility means you get a taste of everything: whether hard tracks in the Boulder room or indoor climbing hall, long routes with alpine ambience or leisurely tours on a sunny cliff - in climbing, regardless of age, everyone finds their individual conditions. Safety guidelines play an important role in enabling you to enjoy this fascination to the full. The best advice for "correct" climbing in the Salzkammergut region can be found here.
Further via ferratas on the Krippenstein
Obertraun | Thrills and rushes of pure adrenaline out on the wire of the new 'Dachstein Krippenstein Via Ferrata'! The new fixed rope course on the Dachstein Krippenstein, a high point for any fan of the Alps!
Only something for absolutely experienced climbers! 4 to 6 hours long "mountain gig" with 1 hour walking time to the access point. Best preparation for this tour is a basic requirement. Start tour early in the morning.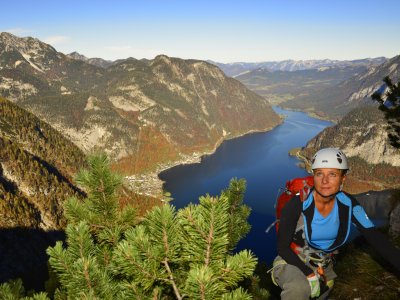 More via ferratas for kids in the Salzkammergut
"Max & Moritz" Via Ferrata for Children and Youngsters Chidr. The only via ferrata for children from the age of 7. Relatively easy route in two stages of about 1 hour in the Gosau Hintertal. 300 metres of pure climbing fun for the youngsters. In two sections.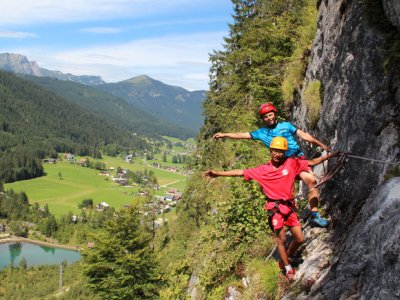 Unterkünfte für Ihren Kletterurlaub
Hotels and accommodation providers in Hallstatt, Bad Goisern, Gosau and Obertraun offer the ideal room or apartment for your holidays, no matter what your tastes. Aside from establishments rated according to the international "star" scale, you will also find around Lake Hallstatt in Austria businesses that have been awarded two to four "edelweiss". The more flowers, the greater comforts you can expect. Whether you eventually find your cozy nest in an elegant 5-star luxury hotel, at comfortable guesthouse, a family-friendly apartment, or on a traditional farm, the choice is always entirely up to you.