Hiking with the diving mask
Adventures in the Salzkammergut
The hiking paradise Salzkammergut also provides some very special challenges. If you hike around the Limbach cascades near Lake Attersee, you should always haue your diving mask to hand.
Hiking trails as far as the eye can see. The Salzkammergut offers countless opportunities to wander through special places up high or in the valleys below. The area is alive with wildlife. Butterflies and rabbits, and if you are lucky, deer (or in the mountains, chamois) might accompany you on your hike. And if you see fish then you are not necessarily on the wrong track. At least not if you are in the back country of Lake Attersee.
Between Attersee and Bad Ischl Not far from Weissenbach am Attersee, in the Weißenbachtal going towards Bad Ischl, are the wild and romantic Gimbach cascades. Where the mighty Höllengebirge mountains fall away steeply to the south, water erosion has created a charming natural jewel in stone. This wonderful watercourse is actually the outflow of the Äußeren Weissenbach, but it offers adventurous nature lovers a unique experience hiking with a diving mask.
Hallstatt | Ice diving: one of the most exiting ways of experiencing the underwater world: Dive into the lake of Hallstatt or lake of Gosau.
Diving | Salzkammergut: The crystal clear mountain lakes of Gosau and Hallstatt are amongst the most attractive diving areas in Europe. That is what makes diving in the Salzkammergut so appealing.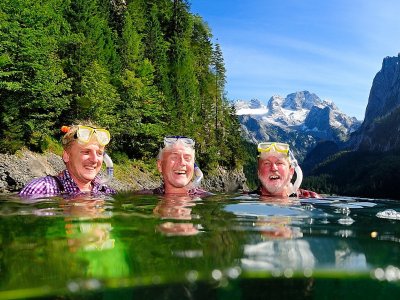 Guided Adventures
In order to ensure great fun (in particular "safe" water fun) you need the right equipment and the guidance from a local professional. The five kilometre hike from the Weißenbachtal to the cascades is a useful warm-up. Arriving at the crystal-clear source of the Gimbach, put on your wetsuit and pick up your snorkel. The water is both breathtakingly cold, and simultaneously heart-warming, compelling you to discover the world of the fish.
Diverse marine life
One by one you discover the so-called "gumpen" - basin-like pools that were created by the swirl and flow of the water. Some are rich in fish, others feature trees, that have been uprooted by the weight of snow, sticking out of the water The depths of the pools varies enormously. Sometimes they are only knee-deep, but sometimes they plunge down to seven metres. The mix of colours resulting from the sunlight is definitely worth seeing. Depending on how long a period of dry weather there has been, the stream takes on a different colour.
Sometimes there's a fine green veil over the surface, which appears more yellow after a few rainy days. Most important of all is safety. This adventure should only be undertaken with an authorised guide. They will ensure that all the participants are properly equipped, provide transport for the hiking equipment, and supply sustenance for the breaks. In short they will ensure that you get the most out of an unforgettable adventure.