Salzkammergut experiments ticket
Salzkammergut Erlebnis-Card
Fancy an example? You spend your holidays in the Salzkammergut and make train excursions into the surroundings. You visit Bad Ischl with the Kaiservilla, the Salt Worlds in Hallstatt and the Ice Caves in Obertraun. You take the cable cars up Krippenstein and Katrin Mountains, and the cog railway up Schafberg. A boat cruise across the lake and a nice operetta night are also on the programme. And already you have saved 30.00 Euros effortlessly – that is our present for you!
Your bonus with the Salzkammergut Adventure Card:
discounts at 130 attractions in the Salzkammergut.
Available at all information offices of the Salzkammergut and at many partner businesses' and accommodation providers'. Valid for the duration of your stay from 1 May to 31 October. For locals and second home owners the Card is valid for 21 days upon issue.
More information at www.salzkammergut.at 
If you are staying in the region for 3 nights or more, simply call at one of our tourist information offices in Bad Goisern, Gosau, Hallstatt or Obertraun and pick up your card!
Special Extra Bonus
Guests who surrender their Card to a Salzkammergut-based Tourist Information Office upon leaving, enter a truly rewarding Prize Draw with great prizes to win:
Win: Two Long Weekends for Two at a Four Star Hotel including breakfasts & dinners.
Your Discount-Card für the region
A journey through time!
Hallstatt | Heritage Museum: Discover your own personal Hallstatt period on a journey through history - from the Stone Age to the present day in the World Heritage Museum Hallstatt. History does not get any more exciting - come with us! Open all the year round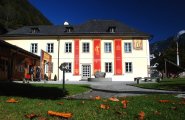 Spa garden Bad Goisern
Bad Goisern on Lake Hallstatt| Parkbad: Located next to the Kurpark (spa gardens), in the centre, are the sunny beaches and lawns of the Parkbad with large sunbathing areas, slides, large swimming pools and ample parking.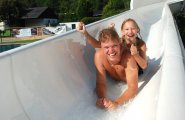 The Landler museum
Bad Goisern | The Landler or Transylvanian Landler museum: Discover the traditions and history of the Landler in a rare exhibition.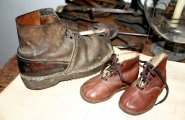 Hallstatt Salt Worlds
Hallstatt | Salzwelten Salt Mines: On the trail of the "Man in Salt" in the oldest salt mine in the world. Going through tunnels which have been hand dug by people over 3000 years ago. A Family Experience!  Open from 12. of April until 2nd of November 2014.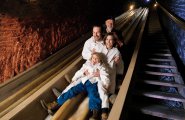 Dirndl To Go
Hallstatt | Rent a "Dirndl" for your photos on the most beautiful places in world-heritage-village Hallstatt to remember your great holiday at lake Hallstatt/Austria!
I want to dive
Diving | Salzkammergut: The crystal clear mountain lakes of Gosau and Hallstatt are amongst the most attractive diving areas in Europe. That is what makes diving in the Salzkammergut so appealing.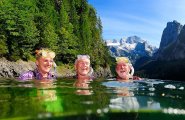 Dachstein West Hiking World
Gosau | Zwieselalm:: Here where skiers come to put their carving skills to the test in Winter, the gently rolling green meadows and mountain ridges offer fantastic views – the perfect place to enjoy a walk.
Gosau indoor pool
Swim a few rounds in the warm water, or just paddle about - a pleasurable way to relax and enliven. Enjoy the spectacular view of the snowy Gosau ridge. Only 20 minutes away. Closed from 12th of May to 30th of June 2014.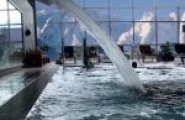 E-Biking around Lake Hallstatt
E-Biking | Dachstein Salzkammergut: Discover the region by E-Bike or Pedelec. Follow the well-established cycle and mountain bike trails throughout the Dachstein Salzkammergut region.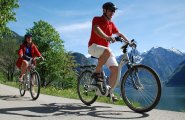 Active Vacations around Lake Hallstatt
With its world of breathtaking mountains around Lake Hallstatt, the area around also offers everything for a unique and unforgettable active vacation in the UNESCO World Heritage region of Hallstatt Dachstein Salzkammergut. Whether families, children or young adults, singles, groups or active vacationers – here everyone finds just what they've been looking for. The breadth of opportunities for your sports holiday in Hallstatt in Austria, combined with famous spas in Bad Aussee and Bad Ischl, makes designing an active and regenerating vacation child's play.
Unforgettable moments in a World Heritage region
Accommodation
he nicest hotels, apartments, B&Bs, holiday homes and campsites, at a glance, for your stay in the Dachstein Salzkammergut holiday region. Booking rooms in Hallstatt, Bad Goisern, Gosau und Obertraun.