Village tours through Hallstatt
History and stories from Hallstatt
During the guided tour you will not only learn facts about the 7000 years old history of our old salt town, which since December 1997 has been registered in the World Heritage list, but also about peculiarities of our town and the living habits of the Hallstatt folk – both past and present.
Book an individual guided tour of Hallstatt
If you would like to book an individual guided tour of Hallstatt – either for yourself or a travel group – then please do not hesitate to contact the Hallstatt tourist office:
Visit Bad Goisern local craftsmen
Bad Goisern | combination of all things old and modern - eg the "Hand. Werk.Haus" and Neuwildenstein stately home, the Kirchengasse passageway and the lower Marktstrasse (market street).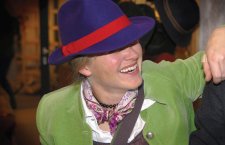 Torchlight walks for groups
Fancy an evening tour with your group through the romantic Hallstatt? Torchlight walks are also possible for groups at any time:
Guided Tours with the Salzkammergut Guides
Discover the most beautiful features of Austria with the Salzkammergut Guides. Whether a walk through the historical village of Hallstatt, a culinary sightseeing tour or a stroll through the natural and cultural landscape of the UNESCO World Heritage Region of Hallstatt Dachstein Salzkammergut, there's something for everyone. The opportunities are as varied and numerous as the many lakes in the heart of Austria. Certified guides from throughout the Salzkammergut are available year-round in every season. Guests will find an extensive programme with a wide variety of offers on the guides' homepage. Make your plans for an unforgettable adventure in the Salzkammergut! Click now for more information.
Out and about on historical paths
During a holiday, you might want to see more than just the famous tourist sites. Sometimes it's exciting to search out and discover the smaller and more subtle points of interests! A great example are the popular themed trails in Hallstatt. On these paths, you will discover the origins of the history-rich UNESCO World Heritage Region of Hallstatt Dachstein Salzkammergut. Follow in the footsteps of famous painters and acclaimed writers through the wild and romantic Echern Valley or take a historical walk—with or without an audio guide—through the picturesque lanes of Hallstatt. The many themed trails offer the opportunity to combine a long, enjoyable stroll with learning about the historical background of the region. Better yet, the trails can be explored regardless of the season and in most weather conditions. We look forward to seeing you on the popular themed trails throughout the World Heritage Region!
Information at a glance