Camping Klaussner-Höll - Hallstatt
5000m², peaceful location at forest edge, 100m from the public bathing beach and the children's playground; 800 m to village-center and only 350 m to saltmine-funicular, boatstation, supermarket, tennis, diving-school and bus-stop.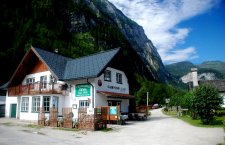 Camping in the world's most beautiful lake resort
On our camp site you are in good hands. Our camp site is a family-run business and is open for you from 15 April to 15 October. The distance to the beach with its bathing isle and big children's playground is 100 metres and the distance to the centre of Hallstatt is 800 metres. The cable railway to the salt mine, ship berth, supermarket, tennis courts, bus stop and diving school are approximately 250 metres away.
Our comfortable restaurant "Pfannhauserstüberl" with its bar is open every day. We recommend you to book tables in July and August. If you arrive by 15.00 o´clock you do not have to pay a deposit.
Reservation is valid until 3:00 pm, when you come later, please make a payment. When there a problems on the road, please call us an we can prolong the reservation 1 or 2 hours
When you come later then 3:00 pm (15:00) please make a payment:
BIC SKBIAT21XXX 
IBAN: AT722031400500571591
or send us your credit card information including number, date and security key.
The payment must min. 24h before on the business account go in to have a reservation.
Last check in time is 8:00pm (20.00).
Reception Times:
08.00 – 12.00
14.00 – 18.00
Facilities
Kitchen with fridge, microwave, electric kettle, sink
Bathroom for small children with nursing room
Laundry service
Lounge with heating
Cable TV
Benches, chairs and tables to loan
Warm water in the sanitary facilities
Showers with warm water
Hairdryer and soap
Washing machine and tumble-drier
Kiosk (bread, milk, eggs, etc.)
Takeaway and bar right next to the camp site
Big children's playground
Internet use
Assembly and repair equipment for mountain bikes
Prices
Prices for 2017 per night in your own accommodations (tent or caravan or
mobilhome or others)
Opened 15.4. - 15.10.
Motor - caravan small 1 night (July / August) 15,00
Charge for space
 
Caravan
9,00
Tent
6,00
Tent - caravan
9,00
Motor - caravan small
 9,00
Motor - caravan big
 11,00
Motor - caravan big 1 night (July / August)
 18,00
Car
5,00
Motor - bike
 4,00
Boat on a trailer
 6,00
Persons incl. all taxes

 
Adults
9,90
Children ( 4-14 years )
5,50
Children up to 4 years
frei
Dog
 3,00
Other
 
Electricity ( per person ) (16 Amp.)
2,00
Parking for Motorhome 3 hours
9,00
Parking for Motorhome 5 hours
13,00
Parking for Night
until 11am next day
 
for 2 adults
20,00
for 3 adults
24,00
for 4 adults
28,00
for 5 adults
32,00
Prices include all taxes.
Send booking inquiry for Camping Klaussner-Höll now!
Your free holiday adventure card!
A holiday, in the UNESCO World Heritage region of Hallstatt Dachstein Salzkammergut, is now twice as rewarding: Enjoy unforgettable experiences and save at the same time! How does this work, you ask? With the Salzkammergut Adventure Card or the Salzkammergut Winter Card. - Depending on the season! These cards are free, when staying for three nights or more and are available from numerous accommodation establishments as well as in the four tourist offices of the Dachstein Salzkammergut holiday region. This will turn your summer holiday in Bad Goisern, Gosau, Hallstatt and Obertraun, into an unforgettable experience! Here is an overview of the attractions and leisure activities where you will receive a discount with the Salzkammergut Adventure Card or the Salzkammergut Winter Card! We wish you relaxing holidays between mountains & lakes within the World Heritage.
Always well-informed
When is the next cable car to the Dachstein Plateau in Obertraun? When does the next sightseeing ship depart from Hallstatt? With the four tourism platforms of the UNESCO World Heritage site of Hallstatt Dachstein Salzkammergut // www.hallstatt.net // www.bad-goisern.net // www.obertraun.net // www.gosautal.net // you will always stay up-to-date on current hours of operation, itineraries and more. If you'd like to use this information for during your stay in the holiday region of Dachstein Salzkammergut, then we would suggest that you save the appropriate website of your holiday destination in your favourites list on your smartphone or tablet. Then, you will always be informed during your holiday in the Salzkammergut. We hope to see you in Hallstatt, Gosau, Bad Goisern and Obertraun!
Send booking inquiry for Camping Klaussner-Höll now!