Winter Time
Winter top winter sports resort
Winter top winter sports resortYou love skiing, snowboarding, carving or freestyle skiing. Then, Dachstein Salzkammergut is the right place for you. In this region you will find conditions that make your heart beat faster. Many kilometres of piste where snow is guaranteed and ideal for all the family! Thanks to the latest technology and most modern ski lifts and cable cars, you can reach the tops of the mountains in the heart of the Salzkammergut in a very short time. More than 60 km of skiing slopes, the perfect snow from December to May, well-prepared slopes ranging from easy to demanding, modern lift facilities, beautiful views and cosy ski huts.
Winter season 2915/16
Ski area Dachstein West in Gosau opening weekend on 4th of December 2015 and have then open right through to 3rd of April 2016. Ski area Freesports Arena Krippenstein in Obertraun on Lake Hallstatt open from 19th of December 2015 until 3rd of April 2016.
Magical snow
The Dachstein Salzkammergut region claim to have wide areas of skiing freedom and no waiting at the lifts. For those who prefer the ski piste – no matter what age – may challenge the numerous slopes of the Dachstein area!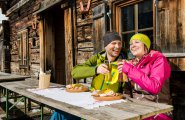 Sights in the wintertime
Your holiday in the Dachstein Salzkammergut region will be full of variety, guaranteed, since there are so many things to see in the four holiday resorts of Bad Goisern, Hallstatt, Gosau and Obertraun.
Under the ice
Hallstatt | Ice diving: one of the most exiting ways of experiencing the underwater world: Dive into the lake of Hallstatt or lake of Gosau.
Snow-free
Wenn es mal wieder mit dem Schnee etwas länger dauert: Hier finden Sie das passende Programm. Wie haben hier für Sie die besten Alternativen im Welterbe zusammengestellt.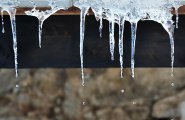 Winter time is spa time!
Enjoy relaxing moments for body and soul: Watch the snowflakes falling from the sky onto white snowy meadows while you bathe in the warm thermal water. An experience for the senses!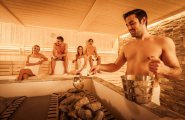 All-in-one-package "Winter Warmth"
Winter holidays in Hallstatt at its best! Bookable from 1st November 2015 through to 3rd April 3 2016: Heart, body and soul: What more do you want? Ideal for your Christmas holiday!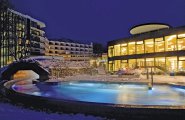 Don't fancy the winter blues!
Who says that you have to always take a holiday in the summer? The UNESCO World Heritage region of Hallstatt Dachstein Salzkammergut also has its charms in November, February or March. While it may be that some attractions are only open in high season, you will be able to enjoy the unique and endless peace. Two family-friendly thermal baths within a short drive away, cosily furnished apartments as well as inns & hotels for all budgets make for relaxing hours between mountains and lakes. A small but fine excursion program will complete your holiday, far from everyday hustle and bustle, with friendly hosts around Lake Hallstatt. See you in Hallstatt, Bad Goisern, Gosau and Obertraun.
Easter around Lake Hallstatt
Skiing or spring hiking? In der World Heritage region of Hallstatt Dachstein Salzkammergut you can enjoy both at Easter time. It is simply heaven when the valleys are turning green and the mountains are still dusted in white.
Tour of discovery through the snow
Winter hiking becomes a true nature experience in the remoteness of the snow-covered Dachstein Plateau, in the winter wonderland of the "Höhenloipe Predigstuhl" in Bad Goisern on Lake Hallstatt or in the beautiful deep snow covered landscape on the Zwieselalm in Gosau. Due to the impressive and inspiring, effect they have on all nature lovers, those who have ever strapped on the lightweight snow shoes, will never want to take them off again. Discover Snowshoeing during a winter holiday in the Dachstein Salzkammergut holiday region and let yourself be enchanted by the breathtaking natural scenery between mountains and lakes. We look forward to seeing you during a holiday in the snow - a very special kind of holiday.
Salzkammergut Winter-Card
Take advantage of the Salzkammergut Winter Card and enjoy discounts for many winter offers in the UNESCO World Heritage region of Hallstatt Dachstein Salzkammergut..
Always well-informed
When is the next cable car to the Dachstein Plateau in Obertraun? When does the next sightseeing ship depart from Hallstatt? With the four tourism platforms of the UNESCO World Heritage site of Hallstatt Dachstein Salzkammergut // www.hallstatt.net // www.bad-goisern.net // www.obertraun.net // www.gosautal.net // you will always stay up-to-date on current hours of operation, itineraries and more. If you'd like to use this information for during your stay in the holiday region of Dachstein Salzkammergut, then we would suggest that you save the appropriate website of your holiday destination in your favourites list on your smartphone or tablet. Then, you will always be informed during your holiday in the Salzkammergut. We hope to see you in Hallstatt, Gosau, Bad Goisern and Obertraun!
Hand in Hand: Culture and Sport
Thanks to its rich history and tradition, the UNESCO World Heritage region of Hallstatt Dachstein Salzkammergut offers a wide range of cultural and sports activities: Each year cycling enthusiasts from all over Europe are attracted to Bad Goisern on Lake Hallstatt, at the start of July for Salzkammergut Mountainbike Trophy, whereas the fans of tradition and customs eagerly await the "Gamsjagatagen" (Chamois Hunting Days) in August. But also the small traditional events and religious festivals such as the ceremonial procession of Corpus Christi or the incomparable World Heritage Advent in December have your very own personal charm and are among the most popular cultural events with guests from all over the world. Spend an exciting holiday among mountains and lakes with events and culture along with a lot of nature in the holiday region of Dachstein Salzkammergut. We look forward to your visit!
Information at a glance