Daffodils Bad Aussee - Solebad & Vitalresort
Pure relaxation with panoramic views
Dive into a world of relaxation and calm in the middle of the impressive mountains named Loser, Dachstein and Sarstein. Enjoy the effects of Ausseer Sole (natural salt water) which comes from the Ausseer Salzberg - the Sandling.
A unique feature is the large, illuminated salt crystal, which is located in the central bathing hall. It holds the Solesee, a sole grotto and a sole steam room in itself - a deliberately stimulus reduced place that ensures complete relaxation. In the sole outdoor pool you enjoy the gorgeous views at the Dachstein glacier or swim your lengths in the sports pool.
In the sauna area it offers regionally inspired sauna rooms and a daily changing sauna program provides variety. Resting and communication rooms, lounge chairs and reading corner provide always the appropriate ambience.
Events
Date: Fri, Nov. 3, 2017 , 10:00 — 23:59
Ort:  Narzissen Bad Aussee, Pötschenstr. 172 8990 Bad Aussee
An evening full of pleasure! Epicurean delicacies, take a bath at candlelight, delightful diversion program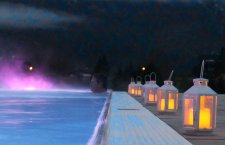 Narzissenhotel **** Bad Aussee
Guests of the Narzissenhotel**** can look forward to 52 generous suites, with impressive panoramic views. The rooms are available in sizes between 35 and 89m². In addition to the amenities of the sole bath, sauna and Medical fitness is visitors a wide range of spa and health services available.
With help of the offered Vital Resort-FLEX-Catering you can eat and drin completely flexible. It provides you a daily credit of € 30.00 per person per day that can be spend in delicious dishes at the Narzissenrestauran, for a lunch in the bathrestaurant, a snack at the sauna or a drink at the lobby bar. You decide when, where and what you want to eat and drink.
Several events take place in the region every year. Such as the famous Narzissen-Festival, the Worldcup of ski flying in Bad Mitterndorf, The Seer Open Air Concert or the Altausseer beer tent-event. Here is the place to recharge your energy for life.
Always new and current offers and opening times, prices and information about events can be found at our website: www.narzissenbadaussee.at.
Erst abtauchen in der Therme, dann eintauchen in alte Stollen
Das Ausseerland, vor den Toren der UNESCO Welterberegion Hallstatt Dachstein Salzkammergut, bietet nicht nur zahlreiche Sehenswürdigkeiten, sonder auch eine Vielzahl an Erlebnismöglichkeiten. Gerade im Herbst und Winter, wenn die Abende länger und die Tage oftmals regnerischer werden, ist die Kombination aus Salzbergwerk und Therme die perfekte Möglichkeit, zwei ausgezeichnete Attraktionen mit einander zu verbinden: Am Nachmittag im "Narzissen Bad Aussee" einfach mal abtauchen oder die Vorzüge des Wellnessangebotes nutzen und am Abend die fantastischen Stollen der Salzwelten in Altaussee entdecken. Wir wünschen viel Vergnügen bei einem Ausflug in das Steirische Salzkammergut.
Information at a glance
vivamar Thermenbetriebsgesellschaft Bad Aussee mbH
Pötschenstr. 172
8990 Bad Aussee
Austria
Phone: +43 (0) 03622 / 55 300
Fax: +43 (0) 03622 / 55 300-500
E-Mail: info@narzissenbadaussee.at

Always new and current offers and opening times, prices and information about events can be found at our website: www.narzissenbadaussee.at.